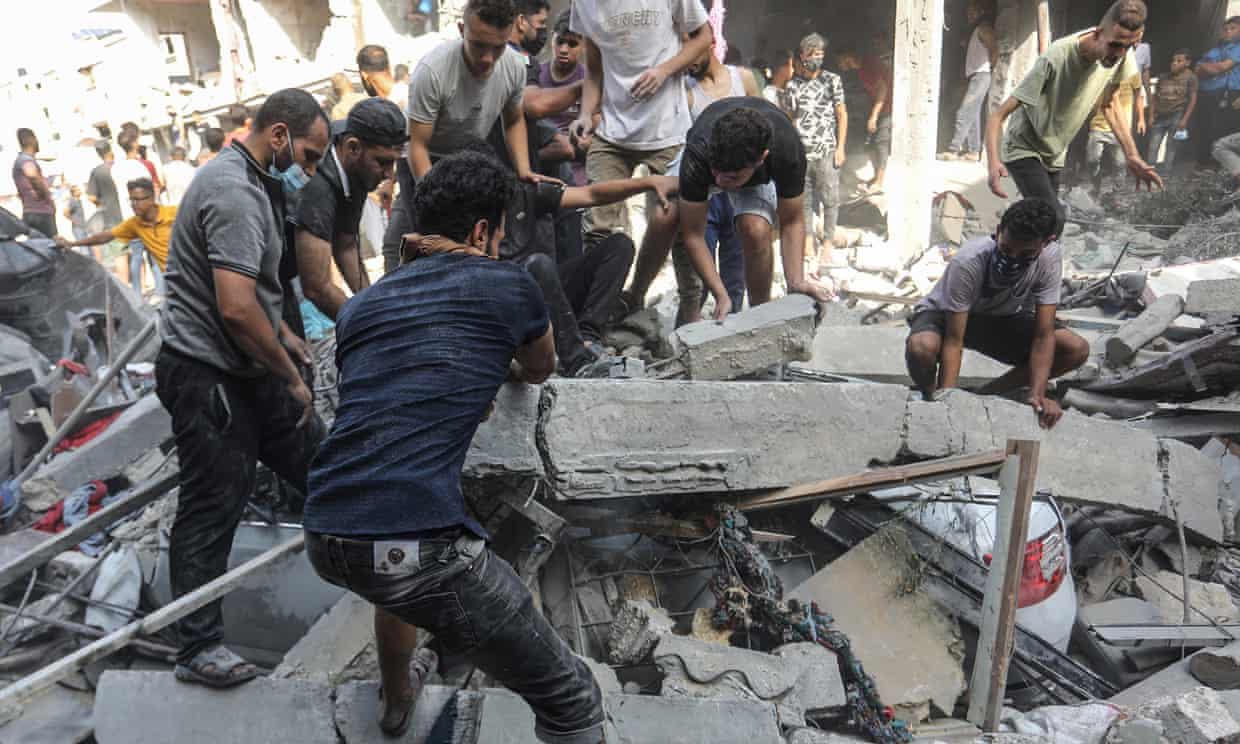 Hour by hour, they are being killed, maimed and traumatised, while the leaders of our nations fail to intervene Mon 23 Oct 2023
The screams of children are difficult to hear over the noise and fury of the Gaza maelstrom. So it's doubly important to listen out for their cries, because what is happening to them, right now, is truly terrible. No, don't look away. Don't close this tab. This is your problem, too.
Long after this war is over, the violent deaths of at least 1,750 children – the total rises daily – and the maiming of the minds and bodies of thousands more will be remembered as an epic failure of human decency for which all may eventually pay a price.
It's a failure of politics, collective security and international law, following on from the horrific Hamas atrocities of 7 October, which killed 1,400 people in Israel, including many children and infants. Yet events in Gaza represent a deeply rooted moral failure for which all must share some blame.
Not for the first time, the international community stands accused of complicity in a war crime, of a collective crime against humanity; it is watching it all unfold in Gaza, mostly from afar, and it is failing miserably to stop it. The 1995 Srebrenica massacre comes to mind, as does Rwanda in 1994.
In a joint statement on Sunday, the US, Britain, France, Germany, Italy and Canada called for "adherence to international humanitarian law, including the protection of civilians". But they know full well that, in Gaza, the exact opposite is happening. And it's not only them. The likes of China and Russia are doing nothing to stop it, either.
Who will judge them, these powerful governments and leaders, dominant in global affairs, whose neglectful, hypocritical and self-interested policies, past and present, combined to produce this tragedy? And who will judge you, in whose name these governments fail to act?
Answer: the children of Gaza, or at any rate, those who survive. Their judgment and their revenge, when it comes, may be unsparing, indiscriminate and terrible, too.
Here are some figures. Early last week, the Save the Children charity reported that one child in Gaza was being killed every 15 minutes. On Saturday, the Euro-Med Human Rights Monitor was estimating a daily death toll of 200 children and infants. Of the more than 4,600 Palestinians killed since Israeli forces began their bombardment, about 40% are children, the Hamas-run Palestinian health ministry says.
Behind these stark figures lies a world of pain. At least 3,250 children have been injured, with 1,240 needing specialised medical care, as of last week. Many have extensive burns and shrapnel wounds or have lost limbs. Yet hospitals and clinics that have been damaged or destroyed or are short of medical supplies – due to Israel's siege – are unable to treat them adequately.
"Israel's bombardment and unlawful total blockade of Gaza mean that countless wounded and sick children, among many other civilians, will die for want of medical care," said Human Rights Watch.
Gaza's children are suffering "record levels of psychological trauma and terror," Euro-Med says. Many are homeless and short of food and safe drinking water, or have been forced to flee south under fire, compounding their trauma.
"When there's an explosion or any target getting hit nearby they are always screaming, always frightened. We try to calm the younger ones, try telling them, 'Don't worry, it's just fireworks'. But the older ones understand what's going on," Ibrahim al-Agha, sheltering in a house in Khan Younis, told Reuters.
The mental health of children under 18, who comprise 47% of Gaza's 2.3m population (compared to 22% in the US and 33% in Israel), has been in crisis for years. A report last year found four out of five say they suffer depression, grief or fear – a sharp deterioration compared to a 2018 study.
More than half of Gaza's children have contemplated suicide and three out of five are self-harming, the report said. Its findings are supported by recent research into the negative psychological effects of "chronic warfare" on young minds.
Repeated clashes between Israeli forces and Hamas, and the effects of the blockade that started in 2007, are key factors in this mental illness epidemic. Now, amid all-out war, the children's plight is getting even worse as Israel steps up its round-the-clock bombardment ahead of a ground invasion.
Anyone in parts of northern Gaza who ignores Israel's evacuation order may be regarded as "an accomplice in a terrorist organisation", according to a leaflet distributed at the weekend. So it's official. Civilians, including children possibly orphaned, injured, lost or separated from their families, may now be deemed enemy combatants if they show up in the "wrong" place.
Killing and targeting civilians, especially children, is illegal under international humanitarian law. The 1949 Geneva conventions governing armed conflict state that children must be protected and treated humanely. Israel ratified the conventions in 1951.
Amnesty International published detailed evidence last week of what it said were war crimes. Israeli forces "have shown shocking disregard for civilian lives," it said.
In one case investigated by Amnesty, an entire family was wiped out when Israeli forces hit a residential building in the Zeitoun neighbourhood of Gaza City. Among the 15 members of the al-Dos family who died were seven children, including Ibtissam, 17, Awni, 12, and Adam, 18 months.
If it's not missiles, it's disease. Oxfam and the UN warn the collapse of water and sanitation services caused by the siege is likely to lead to outbreaks of cholera and other infectious diseases. Small children and babies are at high risk in such circumstances.
The longer-term implications of this pitiless, ongoing terrorising, traumatising and victimising of Gaza's young are worrying. Those who survive will grow up sad, fearful, guilty, angry, alienated and looking for vengeance – or at least, judging by past experience, many of them will.
They will ask who killed their brothers and sisters, their parents, their friends, and why they did it. They will ask what the world did to stop the killing. Haunted by bitter memories of blood and tears, they will demand justice. And some, like so many before, may take matters into their own hands – wherever they can.
To their questions, there are no good answers. What's happening is utterly immoral – and we all know it. By the way, 12 more children died needlessly in Gaza while this article was being written.
It's on me, it's on you. It's on us.
Simon Tisdall is a foreign affairs commentator. He has been a foreign leader writer, foreign editor and US editor for the Guardian