Rosa Luxemburg and Karl Liebknecht, founders of the Communist Party of Germany, were killed in 1919 at the instigation of the German governmentJanuary 16, 2023 by Peoples Dispatch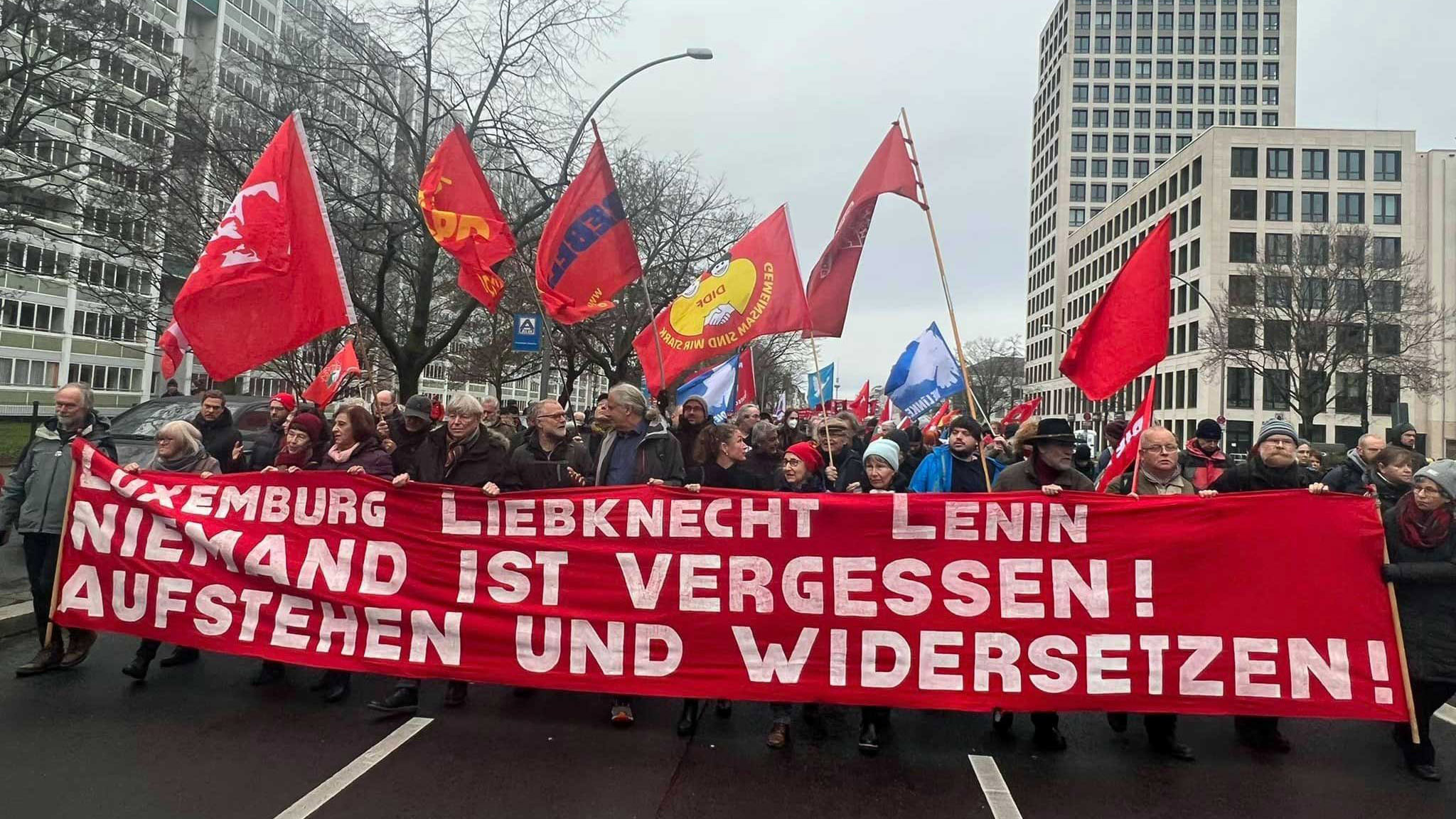 Demonstrators marching in Berlin (Image via evrensel.net)
Thousands of people marched in Berlin on Sunday, January 15, from Frankfurt Gate to the Socialist Memorial, to mark the 104th anniversary of the martyrdom of German communist leaders Rosa Luxemburg and Karl Liebknecht. Activists from Die Linke, the German Communist Party (DKP), the Communist Party of Germany (KPD), Socialist German Workers Youth (SDAJ), Kommunistischer Aufbau, the Marxist-Leninist Party of Germany (MLPD), and various other left-wing groups participated.
The demonstrators called for an immediate peaceful resolution of the ongoing Russia-NATO war in Ukraine and also denounced Germany's participation in ongoing imperialist conflicts around the world. The participants placed red carnations at the Socialist Memorial to pay tribute to the martyrs. On Saturday, January 14, Junge Welt organized the Rosa Luxemburg Conference in Berlin, under the slogan: 'Stop World War III'. This conference was attended by over 3,000 people.
Rosa Luxemburg and Karl Liebknecht, the founders of the Communist Party of Germany (KPD), were murdered on January 15, 1919, by paramilitary forces called the Freikorps at the instigation of the Social Democratic Party of Germany (SPD)-led government, in order to curb the Spartacist Uprising. The Spartacist Uprising of January 1919 was a communist uprising against the post-WWI transition government led by the SPD, with the aim of setting up a workers' republic. The uprising started as a general strike on January 5 and quickly became an armed conflict between the workers led by the KPD and the far-right paramilitary groups working on the orders of the SPD-led government.
While addressing the January 15 rally in Berlin, the chairman of the German Communist Party (DKP), Patrik Köbele, called for peace with Russia and China as well as an end to the economic war against Moscow, the consequences of which include skyrocketing food and energy prices.
Die Linke MP Sevim Dagdelen warned that NATO was "mobilizing for a third world war" and that the supply of weapons to Ukraine must be stopped.
"No previous history justifies a war. Every war is a crime, but this year we need to prevent a greater escalation of war."