Tue 7 Feb 2023 – https://www.theguardian.com/
From house demolitions to military detention, the violence we Palestinians face daily reflects the power imbalance of occupier and occupied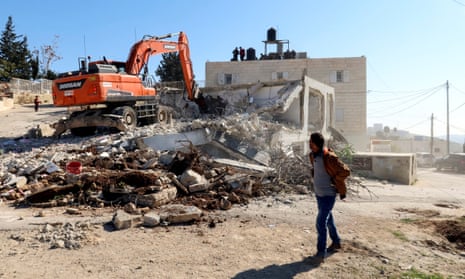 Almost every day, the bulldozers are on the move. In the Palestinian neighbourhoods of Jerusalem, my city, Israeli forces are demolishing homes on an almost daily basis. Dispossession and discrimination have been a longstanding reality here in the eastern part of the city, under Israeli military occupation for 56 years, but under the new far-right Israeli government, Jerusalem has seen a spike in demolitions – more than 30 structures were destroyed in January alone.
The news from our region in western capitals and media outlets tends to be dominated by bloodshed – and the Palestinian people are going through some of the most violent, destructive and lethal days in recent memory. The year 2022 was the deadliest in nearly two decades in the occupied West Bank. In January a further 31 Palestinians were killed by Israeli fire. Hopelessness, frustration and despair hover over us all like a dark cloud. But the numbers alone do not express the extent of this cruelty.
Death tolls and cliched phrases in an ill-informed, biased or unquestioning media about cycles of violence are not appropriate or sufficient for relaying the power imbalance of an occupier and occupied. The violence we Palestinians are exposed to on a daily basis is not just from the Israeli army's weapons but is also deep and structural.
There are no "cycles of home demolitions" or "tit-for-tat expulsions" – Palestinians are not confiscating Israeli properties or detaining thousands of Israelis through military courts. Any approach that suggests symmetry of power – or responsibility – is analytically and morally flawed.
A microcosm of this structural violence can be found right here in the city of my birth, Jerusalem. Last month, a Palestinian gunman killed seven Israelis in the Neve Yaakov settlement in occupied East Jerusalem. Israel's minister of national security, Itamar Ben-Gvir, subsequently pledged to intensify the demolitions of Palestinian homes built without permits, framing the move as a response to the attack.
Most Palestinian homes are targeted for lacking a permit; indeed, in my city, at least a third of Palestinian structures lack an Israeli-issued permit, putting 100,000 residents of occupied East Jerusalem at risk of forcible displacement at any given moment.
In fact, since Israel's occupation of East Jerusalem began in 1967, virtually no public planning was conducted at all for Palestinian neighbourhoods. Fifty-five thousand homes have been built for Jewish Israelis in the eastern part of the city, while fewer than 600 homes were built for Palestinians with any kind of government support. This policy has ensured not only poor housing for Palestinians, but also that they remain a minority in the city.
Despite Palestinians comprising over 37% of Jerusalem's residents, only 8.5% of the land in the city is designated for their residential purposes (and even there the potential to build is restricted). Between 1991 and 2018, only 16.5% of all housing construction permits issued by the Jerusalem municipality were for Palestinian neighbourhoods in the occupied and illegally annexed east. So-called illegal or unsanctioned construction by Palestinians is a response to the chronic, discrimination-based housing shortage.
Most recently, Ben-Gvir and Jerusalem's deputy mayor, Aryeh King, announced the imminent demolition of a residential building in Wadi Qaddum, Silwan, on the basis it was built on land designated for "sports and leisure", rather than residential use. When it goes ahead, this will be a large-scale demolition, displacing about 100 residents. In the past 10 years alone, 1,508 Palestinian structures have been demolished in East Jerusalem, rendering 2,893 people homeless, half of whom were minors.
The occupied West Bank has also been marked by a violent reality. Nearly no Palestinian construction is permitted in so-called Area C (60% of the West Bank). Israeli authorities constantly demolish Palestinian homes, roads, cisterns, solar panels and more. Settlements considered illegal under international law expand, while Palestinians are restricted to fragmented enclaves.
With the number of demolitions and displacements in Jerusalem and the West Bank increasing, entire communities are under threat. But we should remember the cost is most obvious on an individual level: the one family who lose all they have in the world. Walls crumble, children cry and parents scramble to figure out what to do or where to go next. It is a catastrophe, and it is constant.
Lacking an impossible-to-obtain permit is not the only context for demolishing Palestinian property; the Israeli occupation authorities are also destroying or sealing homes as a form of collective punishment, strictly prohibited under international law. Acts of forcible displacement of an occupied population constitute a war crime. The cruelty is astonishing.
These demolitions and displacements are one part of the structural violence we as Palestinians face every day. This Israeli government may pursue new cruel manifestations of occupation, but the foundations were laid by successive coalitions since 1967 from Labor to Likud.
That is why there is no consolation for us Palestinians in the crowds of Israelis protesting against proposed judicial reforms. For decades our lands have been confiscated and people displaced by elected Israeli politicians of various parties, rubber-stamped by every tier of the court system. Occupation and racist policies have been imposed on us by those within the current coalition – and many currently on the outside.
This violence is our reality – and confronting such a reality is a necessary first step in our fight for dignity and justice. Blaming the victim or shutting down the conversation will only prolong our suffering. It's not a cycle of violence, it's a system of apartheid – and must be treated as such by the outside world.
Jalal Abukhater is a writer from Jerusalem