4th February 2023 by https://wrp.org.uk/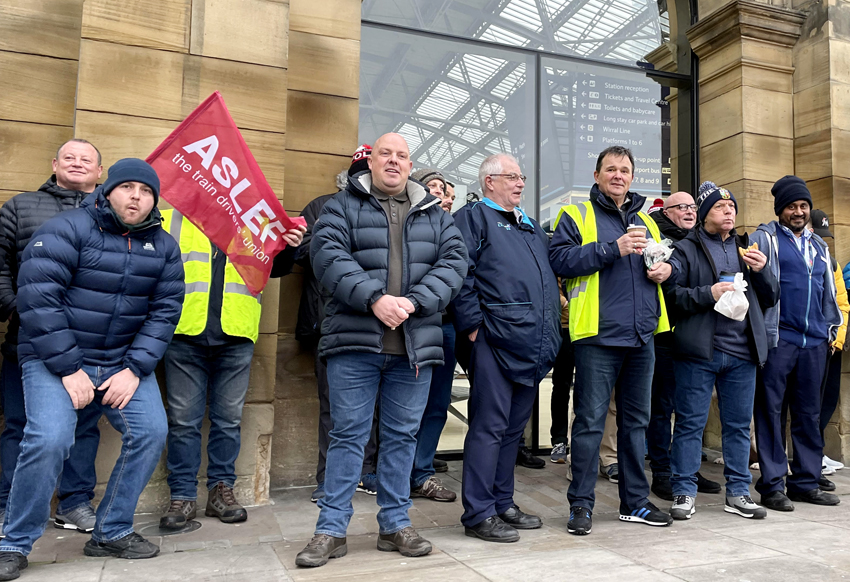 OVER 20,000 railway worker members of Aslef and the RMT unions were on strike yesterday, with powerful picket lines outside scores of stations all round the country.
Speaking on the picket line at Euston Station in central London, Aslef General Secretary Mick Whelan said: 'They say they're close to closing a deal. I don't know who they're closing a deal with.
'We're going back into talks on Tuesday and we're going in open-eyed. But the first thing I think we need is an apology from these people about how they've behaved.
'They've taken a lot of our red lines which haven't been discussed and smashed our framework agreement.
'My people don't want to be out here in the cold, they don't want to be losing money, they'd rather be doing their day job, so we want to get back to normal working.
'But what option do we have? If you haven't had a pay rise for four years, do you wait five? Do you wait six or seven?
'We stand with our members and our members don't want to go back until we get a resolution.'
At London Bridge station in central London, Aslef rep Huseyin Cakir told News Line: 'This is the second day of strike action this week and there are 15 companies striking today.
'We have a pay deal coming up, but terms and conditions are the real issue.
'For a small pay rise they want to destroy what took years to build up, our pay deal extension came to an end last October.
'We were offered 4% this year and 4% for next year and they initially refused to backdate it.'
Aslef member Michael West said: 'These TOCs (Train Operating Companies) put profit and shareholder dividends before health and safety.
'Things like Driver Only Operation leaves vulnerable people such as disabled people and women travelling alone in danger.
'There have been many occasions when a lone woman stood next to a member of staff because she was worried about the behaviour of another passenger and was glad to have that reassurance. If they carry on with their plans that could go.'
At Victoria Station in central London, Aslef rep Jay Brooks insisted: 'They are not going to grind us down, we are solid.
'There are no passenger trains moving on Southern, Gatwick Express or South Eastern Trains rail services.
'We are determined to defend our conditions and will be taking further strike action if this dispute is not resolved after the coming talks.'
In Liverpool, pickets at Lime Street station welcomed the News Line, with one of the Aslef strikers, Len Smith, saying: 'There's a very good turnout from three different companies – Northern, TransPennine and Avanti and our common objective is to better the conditions for future generations.
'The government needs to realise there's general discontent.
'It's not just the trade unions. I'm personally in favour of socialist revolution to oust this government.
'I'm relatively well paid but people in this country are going hungry, it's wrong. Better people could run this country.'
Jim Cassidy, Aslef striker, said: 'We need to bring this government down. They are out to destroy everything public – the NHS, the Railways, everything.
'They are just trying to make profit from everything. We need to stand up against them because it's going too far. We need to draw the Sword of Damocles.
'The TUC should get everyone together and bring everyone out. It's got to be an indefinite general strike for as long as we need to, to get the government out.
'Initially, we need to bring the Tories down and get them on their knees, and if we don't get the government that we want, then we will take it from there.'