Costumed activists marched in the English capital on Saturday, calling for the release of WikiLeaks' founder.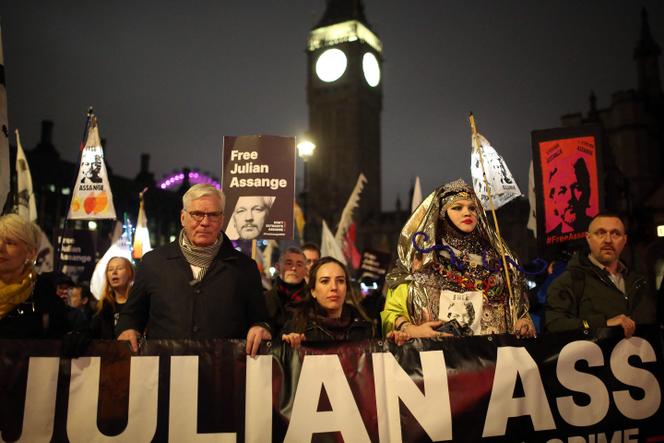 Several hundred supporters of jailed WikiLeaks founder Julian Assange launched a carnival-themed march through central London on Saturday, February 11, calling for his release as he risks extradition to the United States.
Costumed activists took part wearing pigs' heads, clowns' noses and orange jumpsuits and carrying a coffin and lanterns decorated with slogans calling for Assange's release. The march with the theme "darkness into light" was due to end with a rally in Westminster in central London with speakers including Assange's wife Stella.
The Australian publisher remains in custody in Britain pending a US extradition request to face trial for divulging US military secrets about the wars in Iraq and Afghanistan.
Carrying a lantern, 41-year-old activist Naila Kauser decried Assange's case as "one of the most appalling crimes of our century". "He's absolutely being punished and persecuted because he revealed war crimes and corruption that the public has the right to know," she said. "If he's going to the US, it's going to affect press freedom everywhere".
Lucia Spadetta, a 74-year-old Italian teacher, carried a placard reading "Persecuted for denouncing war crimes". "The world seems upside down because he's denouncing war crimes and he's the one who's being persecuted," she said, adding she fears Assange's extradition will go ahead, which would have to be signed off on by interior minister Suella Braverman. "With the lady that we've got now in the Home Office who seems even more determined than (predecessor) Priti Patel, unfortunately he's risking a lot," she said.
Assange is being held in Belmarsh high-security prison outside London. "I know he'll hear about this gathering," said Australian activist Ciaron O'Reilly. "I think the powers that be are happy to have him in prison and offline, and I don't think it matters so much what prison," the 62-year-old added.