The entertainment industry in the US has come to standstill as both actors and writers strike against CEO greed July 15, 2023 by Natalia Marques / https://peoplesdispatch.org/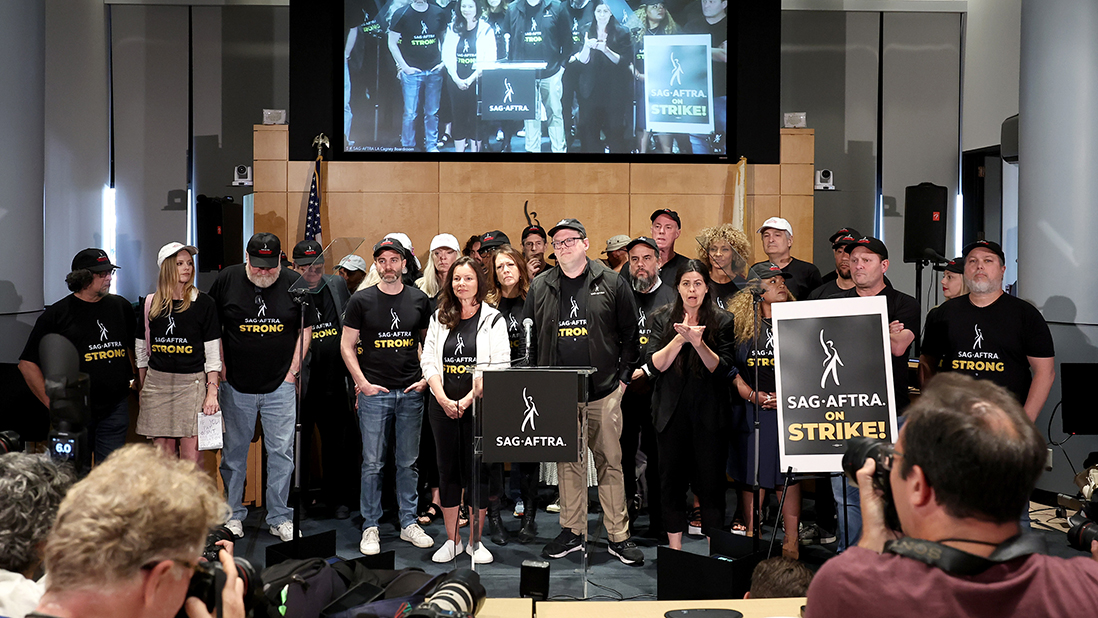 SAG-AFTRA leaders at a July 13 press conference (Photo: SAG-AFTRA)
Hollywood is shut down now that workers organized with the Screen Actors Guild – American Federation of Television and Radio Artists (SAG-AFTRA), which include actors, singers, broadcast journalists, dancers, DJs, news writers, news editors, program hosts, puppeteers, recording artists, stunt performers and voiceover artists hit the picket lines on strike for the first time in 43 years on July 14. This strike is occurring simultaneously with the Writers' Guild of America (WGA) strike of 11,500 entertainment writers, who have ceased labor since May 2. This is the first time the two unions have struck simultaneously since 1960. SAG-AFTRA workers, like the WGA, have been demanding fair pay in lieu of enormous industry profits, and regulations on AI use.
On July 13, SAG-AFTRA reported a shocking proposal made by big studios, represented by the Alliance of Motion Picture and Television Producers (AMPTP), during negotiations the day the current contract expired, on July 12. For only one day's worth of pay, studios reportedly have proposed using technology to scan actors' bodies in order to keep using their likenesses forever. Ironically, this was already a topic of an episode in Netflix's dystopian sci-fi series Black Mirror.
As Kevin Scullin, actor and SAG-AFTRA strike captain, told Peoples Dispatch on the picket line outside of NBCUniversal Studios in Manhattan, actors can be dismissed from a project one day, and then suddenly find their likeness "in a crowd scene, or people are eating at an outdoor cafe and people are walking by. You're walking by, but you're not there. Your image is there."
Scullin told Peoples Dispatch that workers "have to get changes in our contract that reflect the current state of technology, current business models that are operative in the industry right now." But studio executives are not even willing to stay at the bargaining table to negotiate on these worker demands.
"Residual income and high inflation has further reduced our members' ability to make ends meet," said Duncan Crabtree-Ireland, SAG-AFTRA's chief negotiator. "To complicate matters further, actors now face an existential threat to their livelihoods with the rise of generative AI technology. We've proposed contract changes that address these issues, but the AMPTP has been uninterested in our proposals."
On July 13, when SAG-AFTRA announced the strike following the failure of contract negotiations, SAG-AFTRA president Fran Drescher held back tears as she described studios' indifference to worker demands. "I cannot believe it, quite frankly, how far apart we are on so many things, how they plead poverty, that they're losing money left and right when giving hundreds of millions of dollars to their CEOs," she said. "We are all going to be in jeopardy of being replaced by machines and big business, who cares more about Wall Street than you and your family. Most of Americans don't have more than 500 dollars in an emergency. This is a very big deal."
Studios have indeed benefited enormously from the advent of new technology such as streaming services, while refusing to allow worker pay to keep up with such profits as well as inflation, workers say.
Richard Mansur, former national president of SAG-AFTRA, told Peoples Dispatch outside of NBCUniversal, "Since starting in 1980, the transfer of wealth that occurred from the bottom to the top has been obscene in anything in the history of the world."
"[Actors' earnings] have actually, against inflation, been dropping. And [studios] have a proposal on the table, which would have us earning less than we earned in 2020 for the same work, when inflation is accounted for… So it's not a reasonable offer under any circumstances."
A key issue for SAG-AFTRA workers, much like the writers on strike, is better residuals on streaming, which would allow workers to continue making a living off of the movie or show the more it streamed, as it makes more and more profit for the studios. Workers still get residuals from traditional television shows as they are re-ran, but streaming residuals are far less money for actors.
"They've gotten away basically with stealing labor, through completely legal means," says Chris Myers, a member of Anticapitalism for Artists and SAG-AFTRA member for around 12 years, on the picket line outside of HBO/Amazon Studios in Manhattan.
Bob Iger, the CEO of Disney, who will potentially make USD 27 million this year, called SAG-AFTRA worker demands "unrealistic". In response, Mansur, an actor and SAG-AFTRA member for around 50 years, said, "I think his salary is unrealistic."
"Not one of the people in those offices at any of the studios makes anything," he said. "They just don't. They hire us to make it. And all [entertainment workers] together make them… It's a collaborative industry."