Mexico refused to join the talks scheduled in Saudi Arabia to gather support for Ukraine's peace plan as Russia had not been invited. President Zelensky's plan involves Russian withdrawal from all Ukrainian territories, including Crimea, payment of war reparations, and trials in a war tribunalAugust 01, 2023 by Peoples Dispatch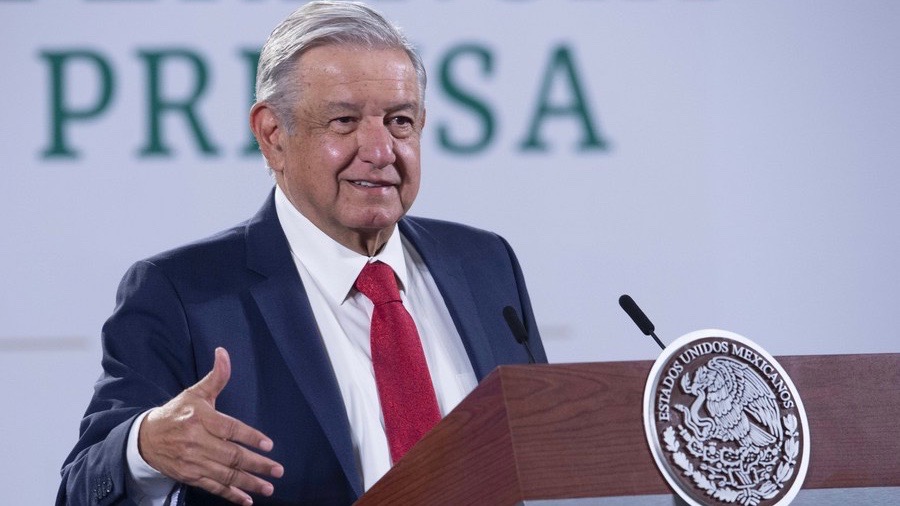 Mexican President Andres Manuel Lopez Obrador (AMLO) (Photo: Xinhua)
Mexican President Andrés Manuel López Obrador (AMLO) told reporters on Monday, July 31, that his country will not participate in the upcoming conference on the war in Ukraine, scheduled to be held later this week in Jeddah, Saudi Arabia, as Russia has not been not invited.
AMLO said that "if there is acceptance from both Ukraine and Russia to look for solutions to achieve peace, we will participate," adding that "we don't want the Russia-Ukraine war to continue, it's very irrational" and "the only thing which benefits from it is the war industry."
According to reports, Saudi Arabia is set to hold the conference sponsored by Ukraine and its Western allies on August 5 and 6. The conference is aimed at gaining wider support for Ukrainian President Volodymyr Zelensky's so-called peace plan presented last year in December during his visit to the US.
Zelensky's plan rules out any talks with Russia and demands its complete withdrawal from all Ukrainian territories including Crimea. It also asks Russia to pay war reparations and face trials in a war tribunal for alleged war crimes before any talks can take place.
Around 30 countries fare expected to join the meet, including delegates from the US, EU, South Africa, Brazil, Indonesia, Egypt, Chile, and Zambia.
Ukraine has already made it clear that Russia will not be invited to the meet, Reuters reported. Meanwhile, Russia has said that it does not oppose the talks in Jeddah but maintained that there can be no peace in Ukraine without its participation. It also completely rejected Zelensky's proposal, calling it unreal and delusional.
Reiterating that Russia was always open for talks, Russian Foreign Ministry spokesperson Maria Zakharova said on Monday that her country hopes that the talks in Jeddah will make the participants realize that "Zelensky's plan has no prospects."
Zakharova emphasized that Russia had never said no to peace negotiations with Ukraine, and has received around 30 different proposals for peace from various countries and individuals. Zakharova reiterated that "several [rounds] of talks took place" between Ukrainian and Russian delegates before "they [Ukrainians] stopped responding" under Western pressure.
Russia alleges that the West does not want Ukraine to reach a peace agreement with it. During his meeting with African delegates in June, Russian President Vladimir Putin claimed that both the countries had been on the verge of reaching an agreement during the Istanbul talks held last year before Ukraine suddenly decided to withdraw under Western pressure.
There have been two major attempts to revive the talks between Russia and Ukraine since their breakdown in April 2022. The peace proposals presented by the Chinese in April and several African countries in June failed to restart the talks.