United Auto Workers are expanding their strike to put additional pressure on General Motors and Ford, playing the three largest automakers against each otherSeptember 29, 2023 by Natalia Marques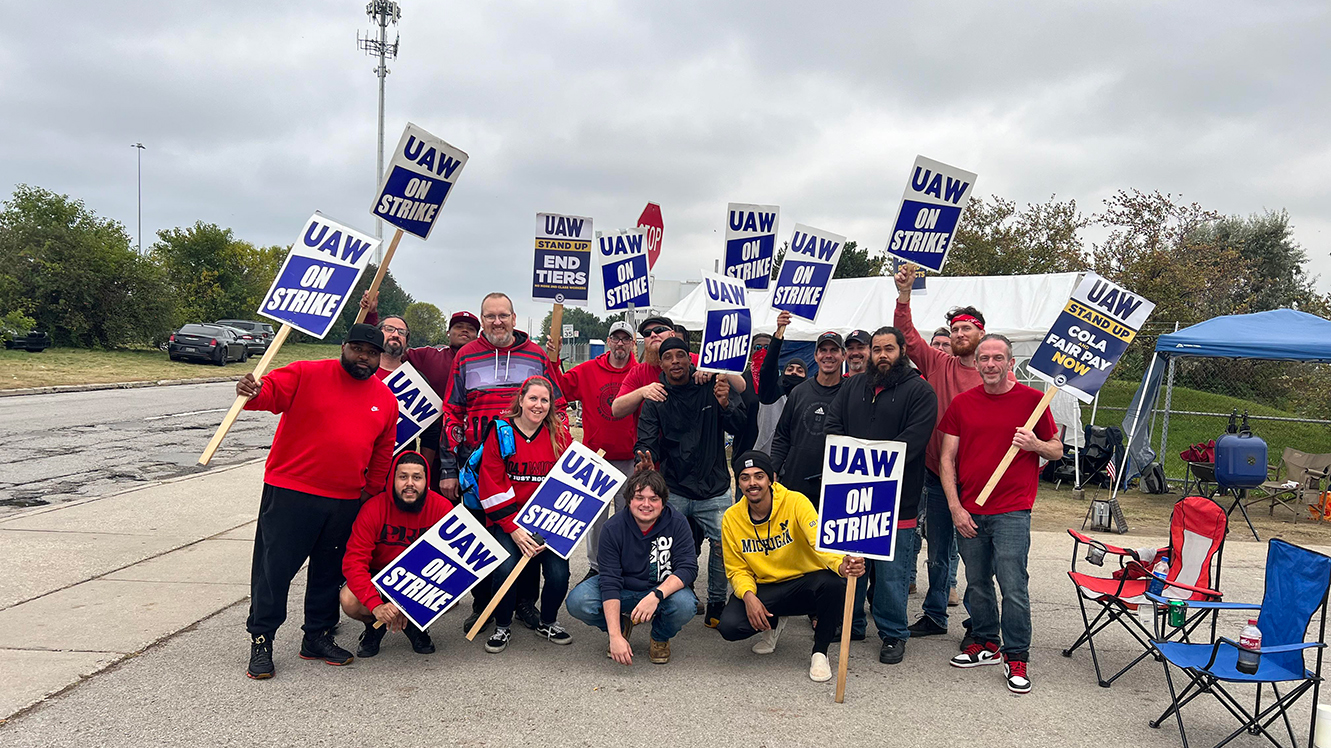 Striking autoworkers in Toledo, Ohio (Photo: UAW via X)
On September 29, United Auto Workers (UAW) President Shawn Fain announced that 7,000 more unionized auto workers are going out on strike, to join the 18,000 workers already participating in the "Stand Up Strike" against the three largest automakers in the United States.
Since 146,000 UAW auto workers saw their master contract expire with the three largest automakers (Ford, Stellantis, and General Motors) on September 14, the UAW has implemented the unique "Stand Up Strike" method. Instead of sending all 146,000 Big Three auto workers out on strike in one fell swoop, the union is having workers walk off the job in waves. This ensures that the companies are always on their toes—already causing the corporations to miscalculate and prepare for strikes at the wrong plants.
The two additional plants called out on strike are General Motors' Lansing Delta Township Assembly in Michigan and Ford's Chicago Assembly plant. The union decided to go easier on Stellantis this time around, although the union had originally planned to expand the strike for all the Big Three this Friday. Shortly before Shawn Fain was to make his weekly Stand Up Strike announcement, Stellantis sent some last minute emails to the union, acquiescing to worker demands around cost of living allowances (COLA), the right not to cross a picket line, and the right to strike over product commitments and plant closures.
Ford was spared last week because of significant progress the union had made on its central demands at that company, and UAW instead elected to send all Stellantis and Ford parts distribution centers out on strike. But as Jane Slaughter writes in Labor Notes, "Today the UAW once again called out workers at Ford and GM, putting some muscle behind its bold demands—a big wage boost, a shorter work week, elimination of tiers, cost-of-living adjustments tied to inflation, protection from plant closures, conversion of temps to permanent employees, and the restoration of retiree health care and benefit-defined pensions to all workers."
In his announcement of the 7,000 workers newly on strike, Shawn Fain referenced US President Joe Biden's visit to a UAW picket line this week, marking the first time a sitting US President has ever visited a picket line. During his visit, Biden expressed open support for UAW's demand for a 40% wage increase.
"Companies were in trouble, now they're doing incredibly well. And guess what? You should be doing incredibly well, too," Biden said to striking workers, referencing the 2009 government bailout of the auto industry. "You deserve what you've earned. And you've earned a helluva lot more than what you're getting paid now."
But Fain was not about to give Biden a pat on the back simply for showing up. On Friday, the UAW leader was frank about what it took to get the President of the United States to show unequivocal support for striking workers. "The most powerful man in the world showed up for one reason only: because our solidarity is the most powerful force in the world."
On Friday, Fain referenced the historic plant that Biden had visited, the GM Willow Run facility in Michigan, "where UAW members built the B24 Liberator bombers during WWII."
"Our union was essential in building what was called the arsenal of democracy," he said in a Facebook Live address to all UAW members and the rest of the public. "Just like 80 years ago, today our union is building a different arsenal of democracy. But this war isn't against some foreign country. The frontlines are right here at home. It's the war of the working class versus corporate greed. We are the new arsenal of democracy."
"The workers are the liberators and our strike is a vehicle for liberation," he declared.
Workers hold the line for a fair deal
While the Stand Up Strike model has proven effective, the sheer excitement and anticipation of each non striking Big Three worksite is testament to the fighting spirit of these autoworkers.
Peoples Dispatch spoke to Jeffrey Parcell, President of UAW Local 3039, whose members work at a Stellantis PDC in Tappan, New York. Tappan auto workers were asked to go out on strike after the first week, on September 22. When asked what it was like to work while the strike was ongoing, Parcell candidly said, "We were pissed. We wanted it to be us." Finally walking out at noon last Friday was extremely satisfying to workers, Parcell said. Management had anticipated that if there were to be a walkout, it would happen at midnight, like it did with the first strike wave on September 14. Instead, Fain ordered Stellantis and GM PDCs to go on strike at noon Eastern Time.
Parcell describes how underprepared management was, and how workers left everything on the shop floor and walked out at midday. At one point while workers were on the picket line, a supervisor walked out of the PDC, and workers reminded him that he wasn't on break, telling him to get back inside and get back to work. In an economic system where the roles are almost always reversed, strikes offer a unique opportunity to give the bosses a taste of their own medicine.
"The day we walked out, you know, we were ready to go," Parcell said. The workers in Tappan are ready to hold the picket line for as long as it takes to reach a fair contract. "We're prepared to go as long as we gotta go man. We dealt with the rain over the weekend, a lot of storms and stuff like that. We're still out there 24/7 around the clock."
Patrick Paisley, a worker at the Tappan PDC for five years, was impressed with the solidarity other working people have shown on the picket line and at solidarity rallies in the surrounding area. "It's not just for us," he told Peoples Dispatch. "A lot of people have been taken for granted, you know. I'm hoping that the bigger heads can see that people want to be recognized, or at least compensated, or appreciated, whatever, you know?"