19 May 2023 by https://www.counterfire.org/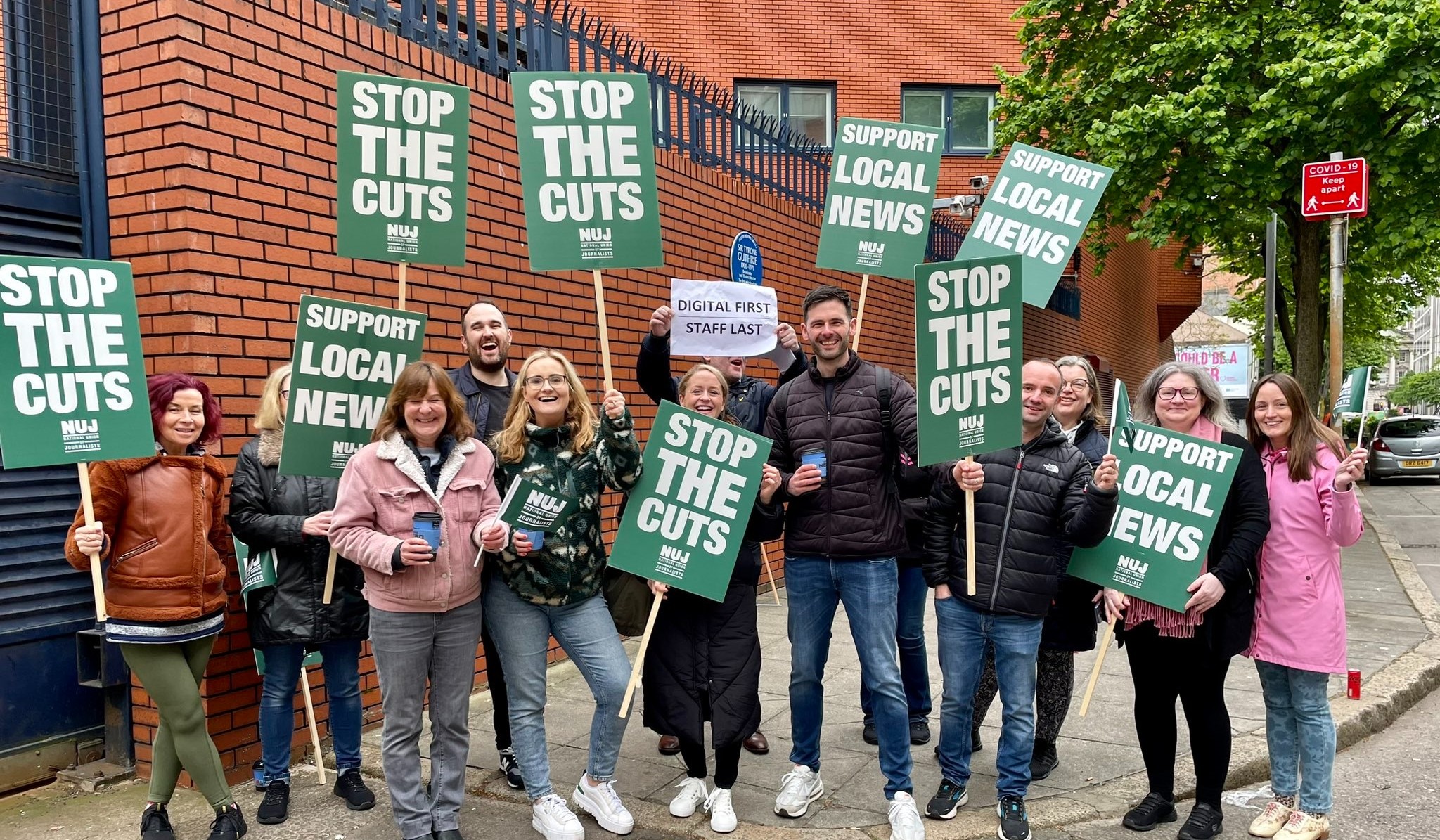 Radio Foyle – Photo: Twitter/ Rick Faragher
Counterfire's weekly digest with the latest on strikes and workplace struggles
You can sign up to receive News from the Frontline straight in your inbox
The Tories are confronting us with a pincer movement that consists of unprecedented economic hardship and the draconian suppression of hard-won legal and political rights.
It's a welcome indicator of the severity of this situation that even the sedentary TUC have been compelled to take to the streets of Westminster with a clear message of "REJECT and REPEAL the Strikes Bill."
TUC's Paul Nowak says:
"This is a spiteful bill. It's undemocratic, it's unworkable and it's very likely illegal. Ministers are ramming it through — shortcutting normal parliamentary procedures and ducking scrutiny."
Last week NFTF reported that "we're on own" on this issue. But that "we" is 6.5 million people in the UK. We mustn't forget that. Make every effort to be with us on Monday night. That's 6pm Monday 22 May in Parliament Square. We're fighting for the right to fight.
Strike stalls production at engine plant; Unite at Mahle
130 workers at Mahle Engine Systems' Kilmarnock site are due to strike every other day between now and the start of June. The company produces high-end components for motorsports engines, ICE and electric vehicles.
The members of the Unite union are demanding the firm plays fair, after the company awarded a 'top-up' pay increase of 6.8% – but only to a select 'chosen few'. The union members are demanding that the pay increase be applied across the board, and have instituted a blanket ban on overtime as well.
The strike dates are 16, 18, 23, 25 and 30 May and 1 June 1. Pickets will likely be at the Ricarton plant entrance on New Street, Kilmarnock. Get there if you can with your banners.
Radio silence from striking journos
The National Union of Journalists (NUJ) has announced further strike days and a work to rule at BBC local radio stations in an escalation of action in their ongoing dispute. NUJ members have already taken strike action this year over plans by the BBC to cut the number of programmes and content produced by local radio stations. The strike action will be for 48 hours, starting on 7 June and ending on the 8th. Members working for the BBC's regional TV network on the BBC website in England will also be taking part in the strike.
The NUJ will also be lobbying parliament on 7 June.
Paul Siegert, NUJ national broadcasting organiser, said: "Many of our members who have had to reapply for their jobs and face redundancy have had a very bruising and upsetting time. They feel this has been very badly managed by senior managers.
"This fight is about the heart of the BBC's public service remit. Local news is vital not just so people can be informed to be able to participate in local democracy, it binds communities together and for the many who will not be able to access local news digitally they will lose the familiar presenters who have become their friends.
"Local radio is not expensive in terms of the BBC's budget, and we believe that the BBC could easily solve this dispute."
Testing their Mettle
Construction workers in Britain's biggest steel contractor have announced rolling days of strikes after a close to unanimous vote over pay. The employer, Severfield, has healthy profits and is raising pay at directors' levels, but will not offer an inflation-matching deal to the GMB members.
The workers at Dalton, Yorkshire, may soon be joined by colleagues in Lancashire and Ireland, who also have live ballots.
Heathrow, we have a problem
Heathrow Airport Ltd (HAL) are suppressing the wages of their lowest paid workers, Unite the union has revealed. Hal, who fired and rehired its entire workforce during the COVID-19 pandemic, have said that an increase in the London Living Wage (LLW) means they will not be increasing the wages of its lowest paid staff and further. According to the union, staff at the London airport have seen their wages fall by 24% in real terms since 2017.
Unite regional coordinating officer Wayne King said: "HAL has been exposed for the grasping, greedy entity that it truly is. Our members have seen pay reduced to such an extent that some workers are forced to use food banks, miss meals and default on rent and mortgage payments. Now there is this attempt to cheat the lowest paid workers out of their dues. It looks as if the moral compass of Heathrow Airport Ltd is well and truly broken."
Bins all out in Cumbria
Unite members working for Cumberland Council have gone on all-out strike over pay, the latest in a now very long line of refuse workers to do so. Shockingly, the Labour Party administration of the region has resorted to strike breaking and is paying a scab workforce more than employees' salary, in scenes reminiscent of the dispute between Unite and Coventry council last year. In a pathetic move, the council leader has claimed that he is "unaware" of this policy by his own directly controlled waste management department.