Around 2 million people took part in mobilizations held in over 250 locations across France on February 7 even as the parliament was debating the deeply unpopular pension reformFebruary 08, 2023 by Peoples Dispatch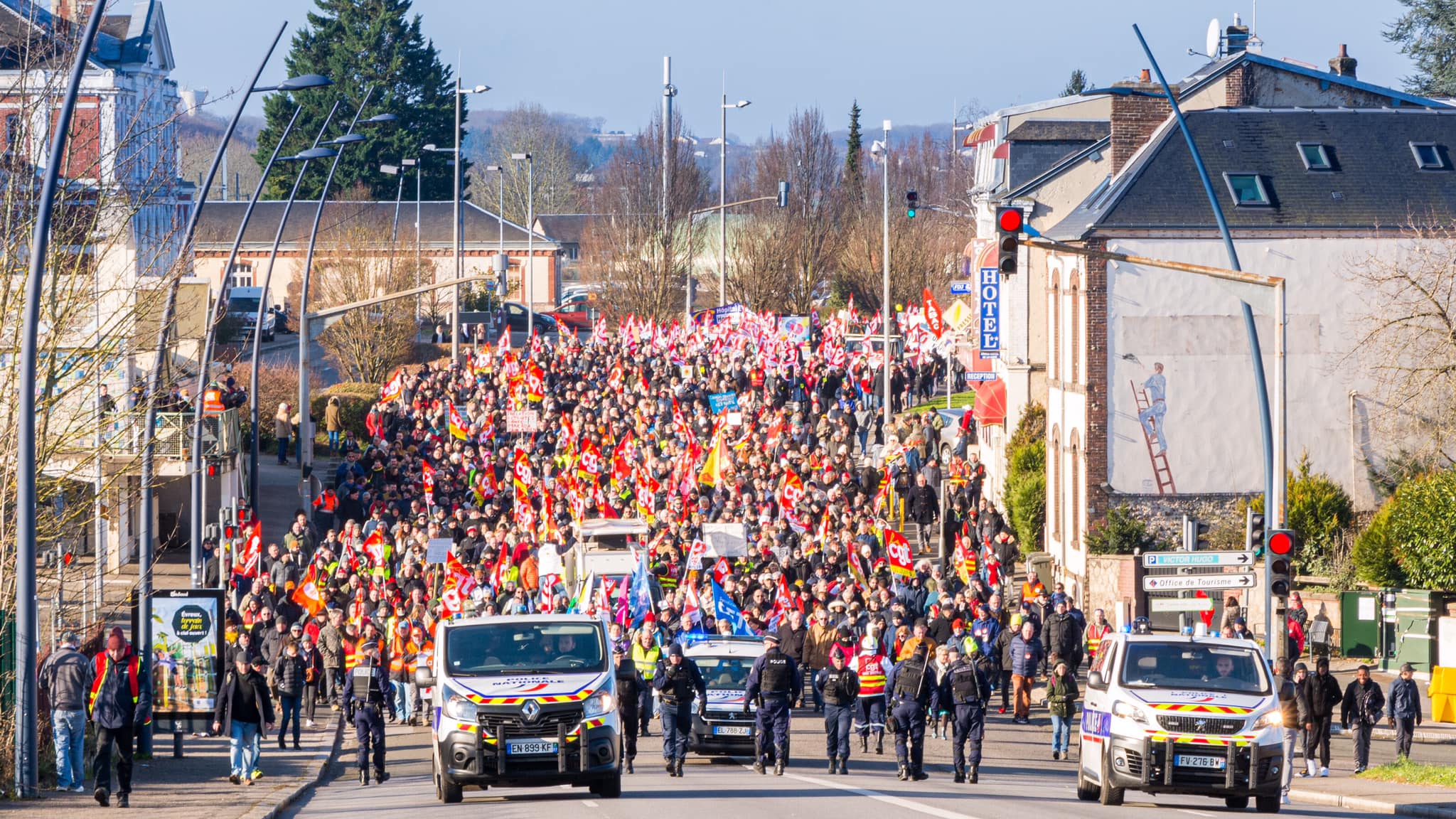 From the mobilization on February 7 (image via CGT)
On February 7, while the French National Assembly was debating the controversial pension reforms proposed by the Emmanuel Macron-led government, the working class hit the streets once again in protest. Around 2 million people took part in mobilizations held in over 250 locations across France, called by the coordination of trade unions, left-wing parties and youth groups. The protesters demanded that the French government finance a retirement at the age of 60 with full benefits with a minimum pension of 2,000 euros (2144 USD) per month. The president of the Workers' Party of Belgium (PTB/PVDA); Raoul Hedebouw and a PTB delegation joined the mobilization in Paris in solidarity with the French working class. The unions have called for another round of mobilization on February 11.
The government's plans to increase the retirement age, announced by French Prime Minister Elisabeth Borne on January 10, sparked widespread protests from the workers of France. The government has proposed an increase in the retirement age from 62 to 64, and workers will need to have worked for at least 43 years to get a full pension, starting from 2027. On January 19, around two million people participated in the mobilizations across France against the pension reforms. A second day of protest was organized on January 31. News outlets have reported that in many cities, the level of mobilization increased to 2.8 million compared to the first strike. Macron's first attempt to change the pension system, during the first term of his presidency, was met with protests and postponed due to the COVID-19 crisis.
The MPs from the left-wing New Ecological and Social People's Union (NUPES) coalition in the French National Assembly resolved to resist the pension reforms in the parliament.
On February 7, while addressing the National Assembly, Pierre Dharréville MP from the French Communist Party (PCF) said, "our pensions have always been too expensive for the big owners of the economy, the great owners of our lives. Right from the first penny. Plus, they are subjected to market and speculation."
"Doesn't our society where labor productivity increases year after year and the alleged cost of labor is reduced year after year, have the means to preserve a real right? Where does the extra wealth produced annually go? In the wages? In retirement? No, they mostly go into the big bottomless pocket of the shareholders," he added.
On February 7, in a communique, the General Confederation of Labor (CGT) stated that "in the context of galloping inflation, sharp rises in energy and everyday goods prices, a general price-indexed wage increase is more necessary than ever. This is one of the demands of the protesters and strikers that would also make it possible to strengthen the resources of pension schemes."