Mark Townsend and Donna Ferguson Sat 14 Oct 2023 by https://www.theguardian.com/
Tens of thousands of people have marched through cities across the UK calling for a free Palestine as tensions grew over an impending Israeli ground offensive in Gaza.
Protesters gathered in Manchester, Liverpool, Edinburgh, Glasgow, Aberdeen and London, carrying flags and flares and calling for world leaders to condemn the actions of the Israeli army.
Fifteen people were arrested at the protest in central London, after warnings from police that action would be taken against anyone showing support for Hamas or deviating from the agreed route.
One man, who allegedly launched a wooden stick at a passing Met van next to Nelson's Column in Trafalgar Square, was chased by officers and arrested after reportedly jumping into a fountain at the landmark.
Nearby protesters then shoved police and threw objects, including bottles, at them, the PA agency reported.
The Metropolitan Police said on Saturday evening that there had been "small pockets of disorder and unacceptable criminality towards our officers in Trafalgar Square" and that eight of the arrests related to suspected assaults on emergency workers, as well as allegedly setting off fireworks in public places. There were also some suspected public order offences.
Nine officers were treated for minor injuries and a dispersal order was imposed on an area of central London that included Trafalgar Square, Green Park and St James's Park to tackle "incidents of antisocial behaviour, crime and disorder", the Met said. It added that the area around Trafalgar Square was "now clear".
In Edinburgh, thousands staged an impromptu march to the Scottish parliament, chanting "Free, free Palestine!" and "From the river to the sea, Palestine will be free" as they made their way up The Mound and along Edinburgh's famous Royal Mile.
Upon arrival, some activists "took the knee" and held a minute's silence in solidarity with the Palestinian people.
Demonstrations were also held in Aberdeen, Dundee and Glasgow, where Bath Street had to be closed due to the number of people attending. Shaaista Bhutta and Muzaffar Yousaf, the parents of the Scottish first minister, Humza Yousaf, are understood to be among those who attended the rally.
In London, a pronounced police presence reflected sensitivities surrounding the march, and minutes before protesters set off, Scotland Yard announced that its counter-terrorism police were looking into more than 50 cases of "potential terrorist content online" in the period since Hamas launched its attack against Israel last Saturday.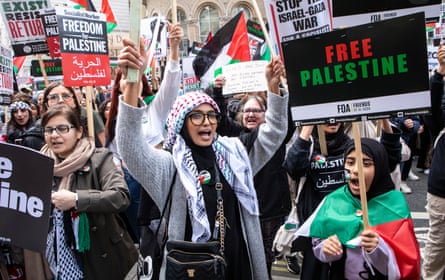 The home secretary, Suella Braverman, had said earlier in the week that waving a Palestinian flag might be a criminal offence. Few at the march in London seemed to take such a threat seriously, with a sea of Palestinian flags visible as the crowd moved slowly down Regent Street towards Whitehall.
Waving hers proudly was Ruth Bennett, 72, and her daughter Tammy, who was attending her first demonstration at the age of 50.
"I've never been so offended in my entire life," said Tammy. "Normally I'm pretty lazy politically but I'm so angry. How can a small child cowering in a tower block be considered a terrorist?
"Everybody seems to be turning a blind eye to what's going on in Gaza. I had to be here."
Born in Zimbabwe, Tammy said growing up in southern Africa had taught her much about the toxicity of apartheid.
Her mother said: "This is personal for me. In South Africa people were pushed into townships and rural areas against their will. In Palestine they actually want to wipe people from the face of the earth."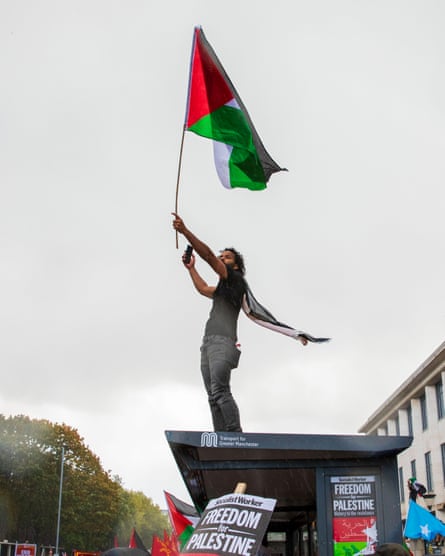 Close by stood Ruaiya, a 16-year-old London student, energetically waving her flag and eager to send a message to the home secretary. "For me the flag is a symbol of peace, of human rights. A criminal offence? Genocide, ethnic cleansing are criminal offences."
In a letter sent to chief constables in England and Wales earlier this week, Braverman also told senior officers to consider whether chants such as "from the river to the sea, Palestine will be free" should be understood as an expression of violence and if, in certain situations, they amounted to a racially aggravated section 5 public order offence.
Again, much of the crowd appeared willing to ignore such threats, with the chant frequently ringing around London's West End.
The former Labour leader Jeremy Corbyn addressed the rally, calling on political leaders to condemn the assault on Gaza.
"It is a day of solidarity and it is a day of hope," said Corbyn, who now sits as the independent MP for Islington North. "There are many who say that nobody should be here today because they'll be condoning terrible things. None of us are here to condone killing. None of us are here to condone occupation.
"If you believe in international law, if you believe in human rights, then you must condemn what is happening now in Gaza by the Israeli army."
Elsewhere among the crowd, Shansul, 41, from east London said he had brought along his two children, aged nine and 13, to learn "the values of solidarity and the importance of standing up for the oppressed".
He said: "It's important for my kids to understand these values but also how lucky they are, that they can go home and play computer games in safety while kids in Gaza face being wiped out."
Others had attended in the hope a strong turnout might precipitate a new political approach to the Israel-Palestine conflict. Tailor Shikha, 23, was not over confident. "If not, just please stop the siege of Gaza. Please."
It was a sentiment repeated widely among those present in London. Selbi Durdiyeva, 34, a lawyer from Turkmenistan, said: "Civilians should never be targeted. The siege needs to finish. I don't have an easy solution, but I do know that Palestine has the right to resist."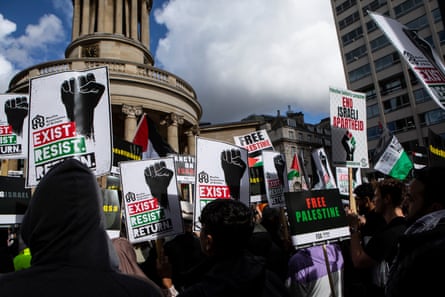 In Edinburgh, where police on motorbikes redirected traffic to help facilitate the peaceful march, Iman, a Palestinian woman, said people in Gaza "need a right to freedom, and refugees need the right to return".
She added: "We want justice, we want peace and we want freedom.
"I thank Scotland for not raising the Israeli flag. I thank Scotland for standing in solidarity, unconditional solidarity with my people. I thank Scotland for its strength to find a safe haven for refugees.
"We need corridors for people to receive medical aid, food and water."
Another attender, a Labour party member who did not wish to give his name for fear of ramifications from the party, told PA: "I'm here because there are voices in the mainstream of UK politics that are on Palestine's side – not the UK government and unfortunately not the opposition.
"I'm happy that other people are here too because I want to show that there are people in the UK who care."
Six activists with Israel flags attended the demonstration as a counter-protest but they were outnumbered by pro-Palestine activists, PA reported.
In Manchester, hundreds of protesters waving "freedom for Palestine" banners marched through the city centre to the beating of drums and chants of "free, free Palestine". Speeches were made at Platt Fields park before people marched through Rusholme to St Peter's Square.
In Liverpool, several hundred people waved Palestinian flags as they made their way to the offices of BBC Radio Merseyside. Earlier, the pro-Palestinian group Palestine Action splattered the national headquarters of the BBC with red paint in protest over the broadcaster's coverage of the Israel-Hamas war, which it said was "manufacturing consent for Israel's war crimes".
Speaking to the Echo at the protest, one protester said: "It's just not fair and just. Everyone's life should be the same. Everyone's life should be equal."
Another, attending with her family, said: "I would like to see that we're able to come to a dialogue. We need to get to the point where we come to a real positive solution for the Palestinians."