15/09/2023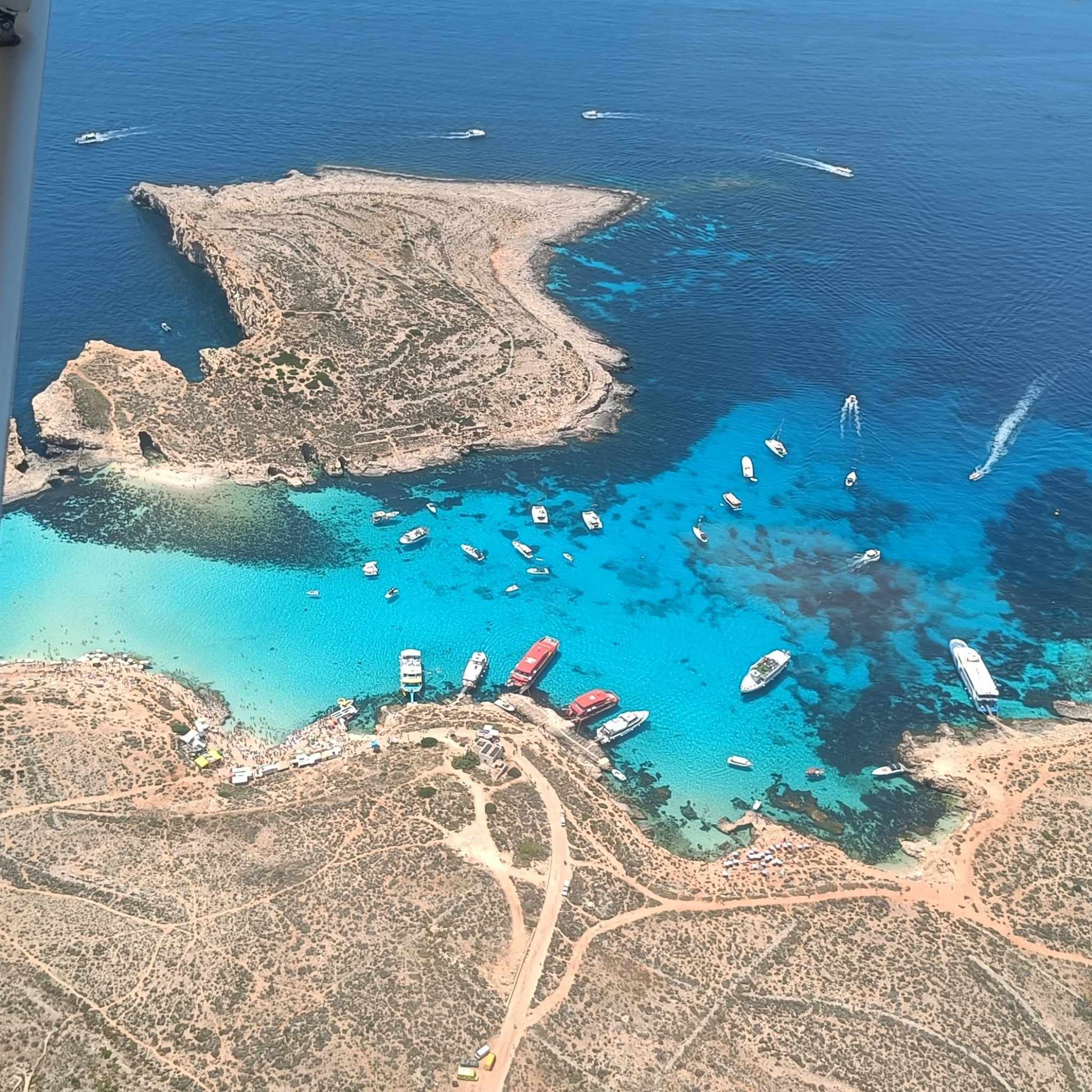 A broad coalition of NGOs and citizens are reiterating their demand to curb the excessive commercial activity at the Blue Lagoon in order to address the current unsustainable situation on Comino. Intense commercial activity linked to mass tourism is leading to rapid environmental degradation of this Natura 2000 site and hindering the public's enjoyment of this unique island reserve.

Among the demands put forward last summer during protests which garnered mass public support, the organisations called for the ban of large commercial sightseeing boats carrying tourists, which transform the Blue Lagoon into a congested, litter-infested, space in a matter of minutes.

Moreover, it is of great concern that Government has been steadfastly refusing to publish the results of the carrying capacity study for Comino and the Blue Lagoon, already commissioned by ERA.

Tourism Minister Clayton Bartolo recently claimed that a carrying capacity study for the Blue Lagoon cannot be carried out before considering this summer's changes to the management of the area, which indicates that Minister Bartolo does not understand what a carrying capacity study is. Since the island's management plan was published, the daily number of visitors to the Blue Lagoon has increased, not decreased, from 5000 a day in 2016 to a staggering 8000 a day this summer. We demand that the results of the commissioned carrying capacity study are published so that the public may see what the authorities should actually be doing to properly manage tourism on Comino.

We can celebrate that the public pressure exerted last summer successfully abolished deckchairs from the jetty and beach, reduced the number of allowed deckchairs overall, and improved the waste collection. However, we stand by our claim that relocating a deckchair operator to an area not previously exploited for this purpose is unacceptable and cannot be in line with Comino's management plan as a Natura 2000 site. ERA and Environment Minister Miriam Dalli have remained shamefully silent regarding such failures on their watch.

The organisations also remind Ministers Bartolo and Dalli that the number of deckchairs was not the only demand put forward last year. Indeed, the number of kiosks at the Blue Lagoon have also shot up, with as many as 11 different stalls running concurrently in the past years. The same can be said about the number of larger commercial vessels berthing at, and disembarking tourists on, the Blue Lagoon.

We therefore reiterate our demands to:

•Prohibit large boats carrying hundreds of tourists to Comino;
•Drastically reduce the number and size of kiosks;
•Abolish all music from kiosks and boats and loud generators;
•Control all commercial activity around the Blue Lagoon to operate on the basis of permits, with strict rules regarding permitted activities and waste management.

Organisations

BirdLife Malta
Din l-Art Ħelwa
Flimkien għal Ambjent Aħjar
Friends of the Earth Malta
Għawdix,
Moviment Graffitti
Nature Trust Malta – FEE
Ramblers Association Malta
_______________________________________________
Daqshekk għal miżuri nofs kedda: waqqfu l-kummerċjalizzazzjoni bla rażan tal-Blue Lagoon

Koalizzjoni wiesgħa ta' NGOs u ċittadini qed jerġgħu jtennu t-talba tagħhom biex titrażżan l-attività kummerċjali eċċessiva fil-Blue Lagoon sabiex tiġi indirizzata s-sitwazzjoni mhux sostenibbli fil-preżent f'Kemmuna. L-ammont esaġerat ta' attività kummerċjali marbuta mat-turiżmu tal-massa qed iwassal għal rata mgħaġġla ta' degradazzjoni ambjentali ta' dan is-sit Natura 2000 u qed jirfes fuq id-dritt tal-poplu li jgawdi din il-gżira riżerva unika.

Fost it-talbiet li kienu ġew imressqa is-sajf li għadda waqt il-protesti li kienu sabu appoġġ mifrux mill-pubbliku, l-għaqdiet sejħu għall-projbizzjoni ta' dgħajjes kbar kummerċjali li jġorru lit-turisti fuq il-ġiti madwar il-gżejjer Maltin, u li jbiddlu lill-Blue Lagoon fi spazju kkonġestjonat u miżgħud biż-żibel f'temp ta' ftit minuti.

Barra minn hekk, huwa ta' tħassib sinifikanti li l-Gvern qed iwebbes rasu u jirrifjuta li jippubblika r-riżultati tal-istudju dwar l-ammont ta' persuni li jifilħu għaliha Kemmuna u l-Blue Lagoon, liema studju ġie diġà kkummissjonat mill-ERA.

Il-Ministru tat-Turiżmu Clayton Bartolo riċentament stqarr li ma jistax isir studju dwar l-ammont ta' persuni li jiflaħ għalihom l-Blue Lagoon qabel ma jiġu kkunsidrati l-bidliet li seħħu dan is-sajf fir-rigward tal-immaniġġjar taż-żona. Dan juri kif il-Ministru Bartolo m'għandux idea x'inhu studju li jevalwa l-intensità li sit partikolari jkun jista' jiflaħ għaliha. Minn meta ġie ppubblikat il-pjan ta' ġestjoni tal-gżira, in-numru ta' viżitaturi li jżuru l-Blue Lagoon kuljum żdied, u mhux naqas; l-ammont żdied minn 5000 kuljum fl-2016 għan-numru xokkanti ta' 8000 ruħ kuljum dan is-sajf. Aħna qed nitolbu li jiġu ppubblikati r-riżultati ta' dan l-istudju sabiex il-pubbliku jkun jista' jifhem x'suppost qegħdin jagħmlu l-awtoritajiet biex jimmaniġġjaw it-turiżmu f'Kemmuna kif xieraq.

Nistgħu niċċelebraw l-fatt li l-pressjoni pubblika li saret is-sajf li għadda rnexxielha twassal biex jitneħħew darba għal dejjem id-deckchairs minn fuq il-moll u l-bajja, jitnaqqas in-numru ta' deckchairs permessi b'mod ġenerali, u jiġi mtejjeb il-ġbir tal-iskart. Madankollu, nibqgħu nisħqu fuq it-talba tagħna li mhux aċċettabbli li operatur tad-deckchairs jitħalla jimxi bl-operat tiegħu għal żona oħra li qabel ma kinetx tintuża għal dan il-għan, u li dan ma jistax ikun konformi mal-pjan ta' ġestjoni ta' Kemmuna bħala sit ta' Natura 2000. L-ERA u l-Ministeru tal-Ambjent Miriam Dalli żammew għalkollox siekta quddiem dawn in-nuqqasijiet kollha li saru taħt ir-responsabbiltà tagħhom.

L-għaqdiet fakkru wkoll lill-Ministri Bartolo u Dalli li n-numru ta' deckchairs ma kinetx l-unika talba li ġiet imressqa s-sena l-oħra. Ma nistgħux ma nsemmux kif in-numru ta' kiosks fil-Blue Lagoon sploda. F'dawn l-aħħar snin kien hemm saħansitra sa 11-il kiosk joperaw fl-istess żmien. Nistgħu ngħidu l-istess għan-numru ta' laneċ kummerċjali kbar li jirmiġġaw u jniżżlu t-turisti fil-Blue Lagoon.

Għalhekk, nerġgħu ntennu t-talbiet tagħna li:
•Dgħajjes kbar li jġorru mijiet ta' turisti lejn Kemmuna għandhom jiġu pprojbiti;
•In-numru u d-daqs tal-kiosks għandu jiġi mnaqqas b'mod drastiku;
•Il-mużika tgħajjat mill-kiosks u d-dgħajjes u l-ġeneraturi storbjużi jridu jiġu mwaqqfa;
•Għandha tiġi kkontrollata l-attività kummerċjali kollha madwar il-Blue Lagoon b'tali mod li titħalla topera biss abbażi ta' permessi, b'regoli stretti dwar l-attivitajiet permessi u l-ġestjoni tal-iskart.
Għaqdiet:
BirdLife Malta
Din l-Art Ħelwa
Flimkien għal Ambjent Aħjar
Friends of the Earth Malta
Għawdix
Moviment Graffitti
Nature Trust Malta – FEE
Ramblers Association Malta