Health workers say they have been forced to watch from a distance as children bleed to death.
17 August 2023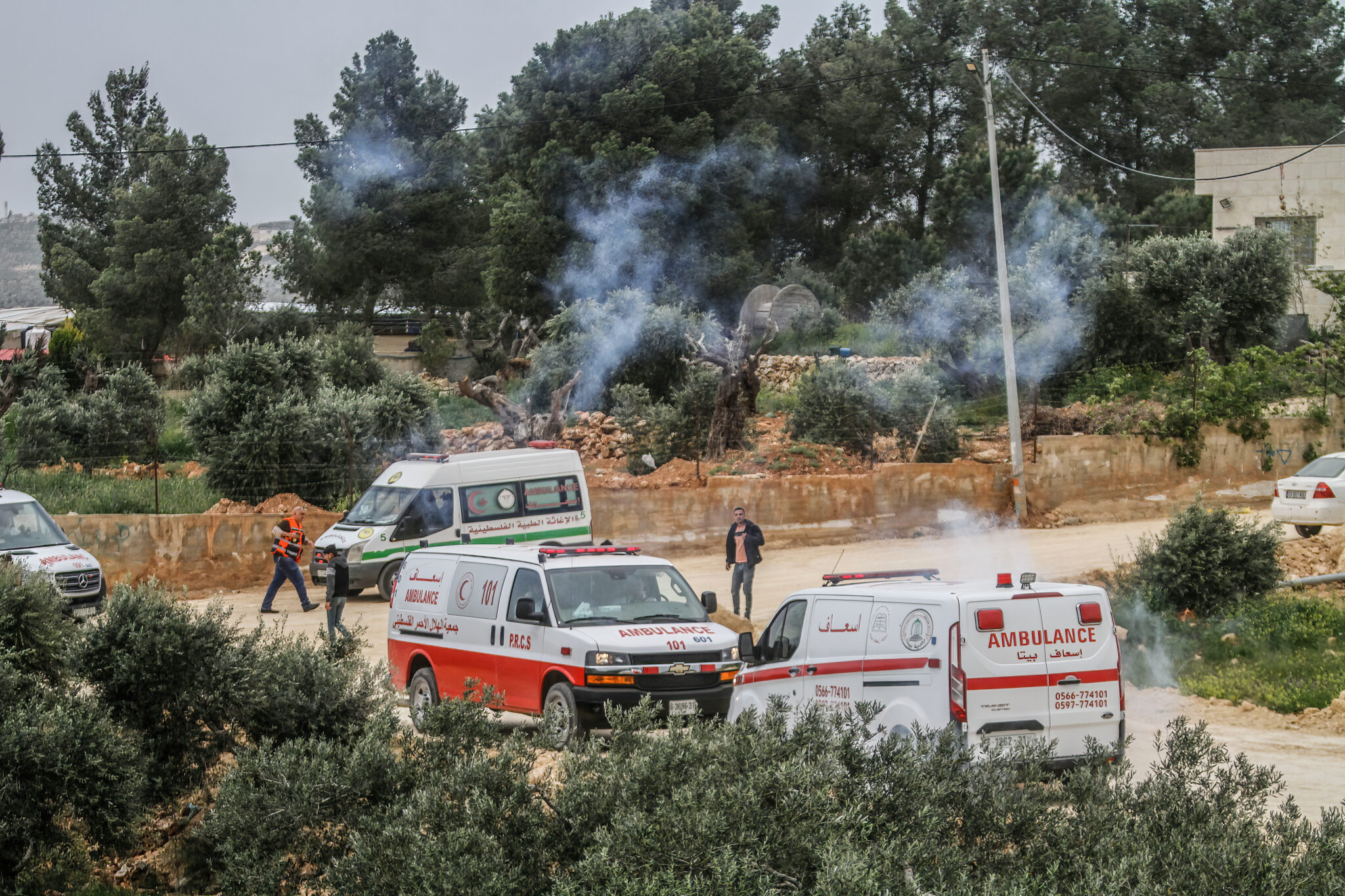 Khawla Jumaa has worked as an ambulance officer in Palestine for 17 years. The 48-year-old trained to be a paramedic after witnessing a massacre in her home town of Jenin in 2002, in which at least 52 Palestinians were killed by Israeli forces. "After everything I saw in the invasion, I felt a duty to help people," she said.
Being able to help people gives her "strength", she said, but increasingly the job has also left her with a "kind of heartbreak". By early July, 2023 had already surpassed 2022 as the deadliest year on record for Palestinians in the West Bank, with the death toll reaching 153.
It's not just the frequency of the attacks that has changed, Jumaa said, but the nature of the injuries too. "Israeli forces used to shoot Palestinians in their legs, but now intentionally shoot them in the neck or chest, which involves a more serious threat to their lives," she explained. During Israel's raids on Jenin last month – the largest attack in two decades – she operated on three people with neck wounds. Recently, she said, she has also seen a significant number of children among the injured. "It is particularly distressing for me, as a mother."
Sometimes Jumaa is herself a target; as the attacks on Palestinians intensify, so too do attacks on ambulance workers trying to assist the injured. The Palestine Red Crescent Society (PRCS), has recently recorded incidents of Israeli soldiers physically assaulting medics and targeting their ambulances with live ammunition, rubber bullets and tear-gas canisters. In total, there were 193 incidents targeting staff and vehicles in 2023 – a 310% increase compared with the same period last year.
During the attacks on Jenin last month, Israeli soldiers killed eight Palestinians and injured 50 more, the Palestinian Ministry of Health reports. Israeli forces also directly targeted two ambulances belonging to the PRCS with live ammunition. Jumaa, who was in one of these ambulances, said that Israeli forces shot at the engine of the vehicle in order to disable it.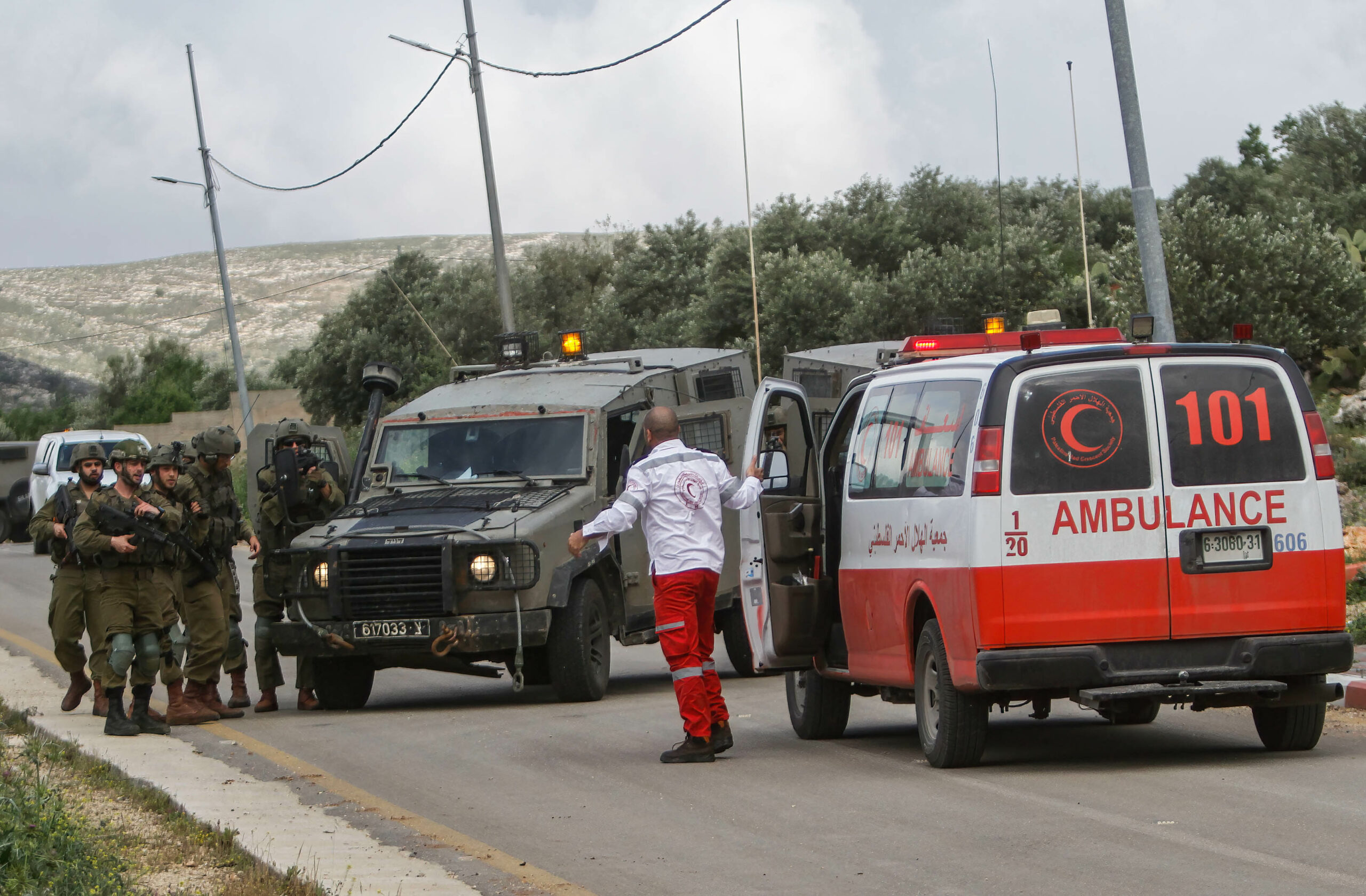 Several health workers who spoke to Novara Media reported recent incidents of occupation forces blocking ambulances from reaching the injured and from getting them to hospital. 48-year-old paramedic Waleed Abu Alhaija recalled coming within a metre of a casualty in Jenin last month, only for an Israeli sniper to open fire, warning him and his colleagues against evacuating them. "The four of us paramedics suffered injuries from shrapnel from the sniper's fire," he said. "The injured person continued to bleed until he died."
In the past, Abu Alhaija said, he has been metres from bleeding children and prevented from rescuing them by Israeli forces. These situations weigh heavily on him: "We always have a feeling of guilt, that perhaps I should have tried more to reach the injured person – although it is not my fault. I imagine that perhaps this injured person that I could not reach could be my son or brother or one of my relatives."
These are not feelings that workers can simply switch off from outside of the job. "Sometimes, I see injured people in desperate need for our help, which Israeli forces prevent us from providing," said Ameed Soboh Ahmed, a 38-year-old medical worker from Nablus. "These people are on my mind, and I think about them constantly – so much so, that some nights I can't sleep. Our inability to help them and the feeling of failure to provide help weighs on me."
Paramedics are acutely aware of the risk they face just by going to work each day. Conditions have become so dangerous that when Medical Aid for Palestinians (MAP) surveyed paramedic crews last month to assess their supply needs, they found that one of the most frequent requests was for body armour. "When I leave the house, I often feel that I am saying goodbye to my children and family," said Soboh Ahmed, "and I do not know whether I will return safely or not – so my view of them is a farewell look."
Amid the escalation in violence, MAP has provided bulletproof vests and helmets for medical workers. While this support is vital, it isn't always guaranteed to protect people working in the field. According to MAP, last month, Israeli forces stopped ambulance workers and made them remove their clothes before confiscating their bulletproof vests.
The current wave of attacks on medical workers recalls the second intifada, when 12 medics were killed, according to the Red Crescent. They also take place against a backdrop of longstanding structural violations against Palestinian healthcare. This includes Israeli policies preventing Palestinians from setting up their own permanent healthcare facilities, and the blockade of Gaza, which has severely restricted access to specialised medical care due to delays or the denial of patients' exit permits.
MAP already has mobile health clinics in areas where the Palestinian Authority cannot establish services because it is under full Israeli control. But recent instances of medical workers being blocked from accessing the injured have highlighted the need to go further in ensuring a continuum of care. "Something we're implementing right now [is] training people that are already in the community to at least provide the basic first aid to people in need," said Aisha Mansour, MAP's West Bank director.
Another recent intervention MAP is providing is "self-care" workshops for Palestinian medical workers. "I don't think there's any way, given the situation, to remove the source of anxiety," said Mansour. "But [it's about] finding ways to deal with it and to find some ways for them to care for themselves."
Palestinian health workers are in desperate need of this psychological support and life-saving equipment – but it will take much more for them to feel safe at work. "I cannot be safe at work as long as the occupation continues," said Jumaa. "But I will not waver, not for a moment, in trying to fulfil my humanitarian duty in rescuing lives."
Daisy Schofield is a freelance journalist.