Mon 19 Jun 2023 – https://www.theguardian.com/
Michael D Higgins says government risks burying country in other people's agendas amid 'drift' towards Nato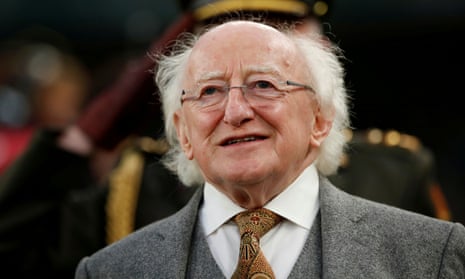 Ireland's president has rebuked the government for launching a debate about the country's longstanding military neutrality and the possibility of joining Nato, saying ministers were "playing with fire".
Michael D Higgins accused the government of a dangerous "drift" from a cornerstone of Irish foreign policy and said it risked "burying" Ireland in other people's agendas.
The intervention, made in an interview with the Business Post newspaper on Sunday, puts a spotlight on a government-sponsored forum on international security, where Ireland's neutrality will be debated. It also raises questions on the role of the president, who occupies a largely ceremonial post.
On Monday, Higgins apologised for a "throwaway remark" in the interview about the forum's independent chair, Louise Richardson, who he said had "a very large DBE – Dame of the British Empire" – implying that she was biased towards the UK.
He added: "I think it's grand but, you know, I think there were a few candidates I could have come up with myself."
Richardson, an Irish academic and counter-terrorism expert, is a former vice-chancellor of the University of Oxford who sits on the boards of the Booker Prize Foundation and the Carnegie Corporation philanthropic foundation.
Several politicians had called the president's comments unfair. In a statement, his office said: "He apologises for any offence which he may have inadvertently caused to Prof Richardson by what was a throwaway remark."
However, the president did not recant other views expressed in the interview, which sharpened the debate about Ireland's military neutrality in the era of Russian aggression under Vladimir Putin.
The arrival of Ukrainian refugees, incursions by Russian ships that are suspected of mapping underwater cables and a 2021 ransomware attack by suspected Russian gangs on the health service have raised questions about Ireland's meagre security resources.
The justice minister, Helen McEntee, defended holding the forum. "The president himself knows what the boundaries are here, and he expressed his views. Many would agree with him, there are many who would disagree, and that's why we need to have this forum," she told the Newstalk radio network.
Neale Richmond, the junior enterprise minister, said the president had sailed "close to the line".
Ireland has joined UN peacekeeping missions but shunned military alliances and invested little in defence compared with other countries. Critics accuse it of saving money and claiming the moral high ground while sheltering beneath a Nato umbrella.
Micheál Martin, the deputy prime minister, said the government did not intend to abandon military neutrality but that the forum would explore evolving security needs.
Ireland has previously convened citizens' assemblies to debate constitutional changes such as ending an abortion ban. The upcoming consultative forum involves experts, academics and service personnel as well as citizens. They will meet on 22-27 June in Cork, Galway and Dublin.
Anxiety about Russia prompted Finland to become Nato's 31st member in April. Sweden also abandoned decades of non-alignment this year but objections from Turkey and Hungary have delayed it joining Nato.