19/11/2021 by https://movimentgraffitti.org/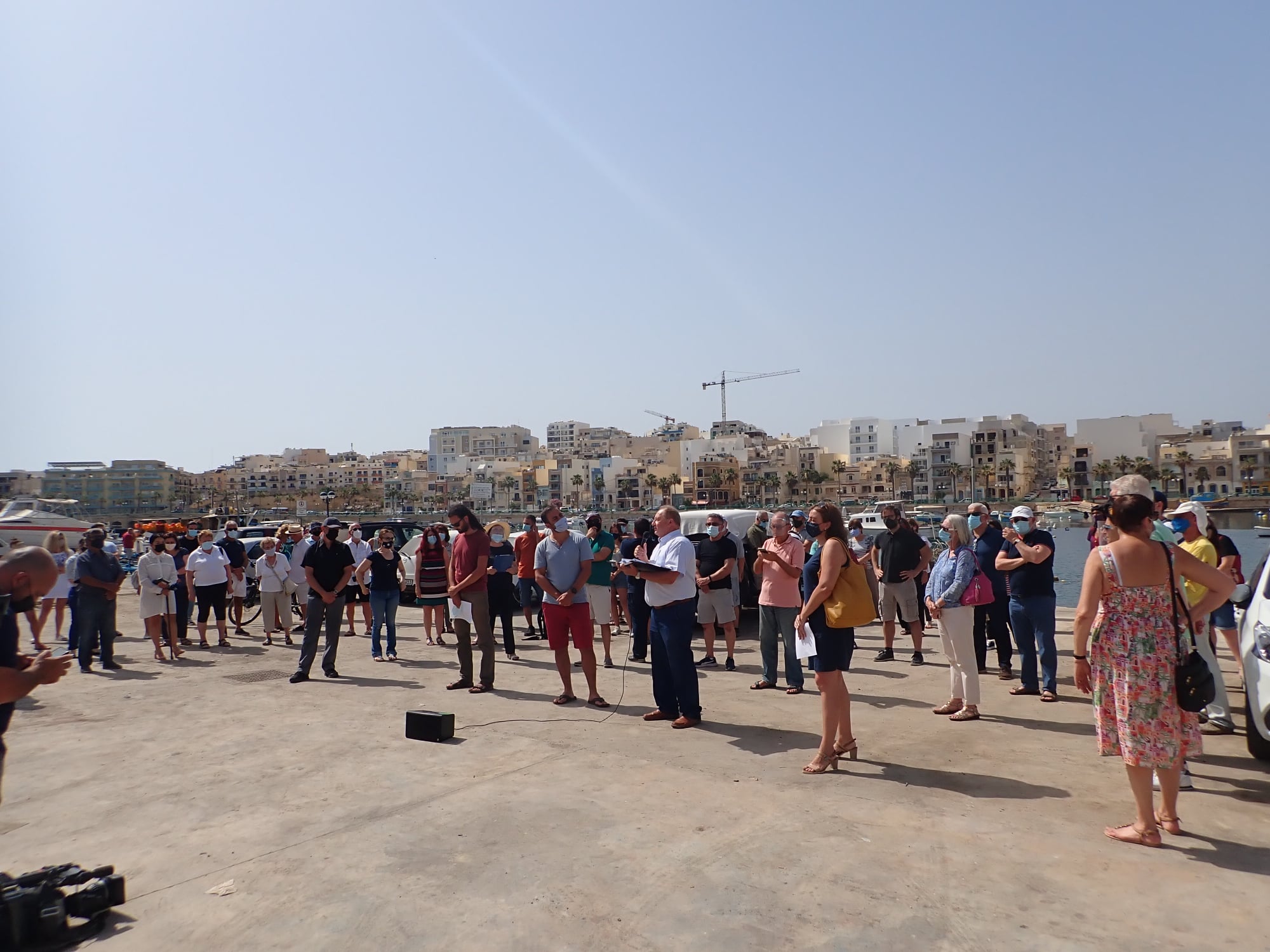 A group of Marsaskala residents, including the Local Council minority leader John Baptist Camilleri, have been acquitted by the Court of all charges brought against them in a sitting held this morning.

Residents were charged with absurd accusations of hanging banners "illegally" and of collecting funds for their activities in an illegal manner. The Magistrate immediately dismissed the case against them during the first Court sitting this morning.

The Marsaskala residents are active citizens calling for improvements in their locality as well as calling out the greed of certain businesspeople who are robbing them of their quality of life and public spaces. In a case of unacceptable intimidation, the police had started summoning persons involved in this group and charging them with these ridiculous accusations, following reports brought against them by businessman Eric Abela. Abela failed to show up in court today to sustain his baseless accusations.

Eric Abela holds business interests in Marsaskala square and has drawn the ire of residents after it came to light that, through his participation in a committee illegally constituted by the mayor, he was redesigning the square and its surrounding to serve his business interests.

The committee was chaired by Eric Abela's cousin, PL election candidate Ray Abela. Since then, the committee has been dissolved after residents revealed that it was set up in breach of applicable regulations, but they have also warned that the plans drawn up by this committee will now be pushed via an MTA design contest for the locality.

In spite of all intimidation against them, the residents will continue in their relentless activism and are now leading the battle against the proposed Yacht Marina in the locality.

Their organisation and determination shows the way forward to all Maltese and Gozitan residents who want to unite and fight against those forces that want to steal our spaces and destroy our environment for their personal gain.
__________________________________________

Il-Qorti teħles lir-residenti ta' Marsaskala mill-akkużi kollha kontrihom
L-akkużi intimidatorji kontrihom ġew irrifjutati

Grupp ta' residenti minn Marsaskala fosthom il-Minority Leader tal-Kunsill Lokali, John Baptist Camilleri, inħelsu mill-akkużi kollha miġjuba kontrihom fil-Qorti f'seduta iżjed kmieni dalgħodu.

Ir-residenti ġew mixlija b'akkużi assurdi fosthom li dendlu banners b'mod "illegali" u li ġabru fondi għall-attivitajiet tagħhom b'mod illegali. Il-maġistrat immedjatament waqqa' l-każ kontrihom fl-ewwel seduta tal-Qorti dalgħodu.

Ir-residenti ta' Marsaskala huma ċittadini attivi li qed jitolbu titjib fil-lokalità tagħhom kif ukoll jikkritikaw ir-regħba ta' ċertu negozjanti li qed jisirqulhom il-kwalità tal-ħajja u l-ispazji pubbliċi. F'każ ta' intimidazzjoni inaċċettabbli għall-aħħar, il-Pulizija bdiet issejjaħ lill-persuni involuti f'dan il-grupp u tixlihom b'dawn l-akkużi ridikoli, wara rapporti li saru kontrihom min-negozjant Eric Abela. Abela naqas milli jidher fil-Qorti dalgħodu sabiex jissostanzja l-allegazzjonijiet bla bażi tiegħu.

Eric Abela għandu interessi kummerċjali fil-pjazza ta' Marsaskala u kkawża rabja fost ir-residenti wara li, permezz tal-parteċipazzjoni tiegħu f'kumitat li ġie stabbilit b'mod illegali mis-Sindku, sar magħruf li qed jiddiżinja l-pjazza u l-madwar sabiex jaqdi l-interessi kummerċjali tiegħu.

Il-President tal-kumitat kien il-kuġin ta' Abela, Ray Abela, kandidat tal-PL għall-elezzjoni ġenerali. Minn dak iż-żmien, il-kumitat ġie xolt wara li r-residenti żvelaw li l-kumitat infetaħ fi ksur tar-regoli applikabbli, iżda wissew ukoll li l-pjanijiet li tfasslu mill-kumitat issa qed jiġu promossi minn konkors tal-MTA għall-iżvilupp tal-lokalità.

Minkejja l-intimidazzjoni kollha li sofrew, ir-residenti se jkomplu fl-attiviżmu tagħhom u se jkomplu jmexxu l-ġlieda kontra l-Yacht Marina li qed tiġi proposta fil-lokalità.

L-organizzazzjoni u d-determinazzjoni tagħhom għandha tkun ta' eżempju għar-residenti Maltin u Għawdxin li jridu jingħaqdu kontra dawn il-forzi li jridu jisirqulna l-ispazji tagħna u jkissru l-ambjent għall-gwadann personali tagħhom.