A colonial-era land grab in Kenya saw Britain evict half a million people. Now survivors are confronting some of the UK's most powerful institutions, from Unilever to King Charles, in a bid to reclaim their land.
1 DECEMBER 2022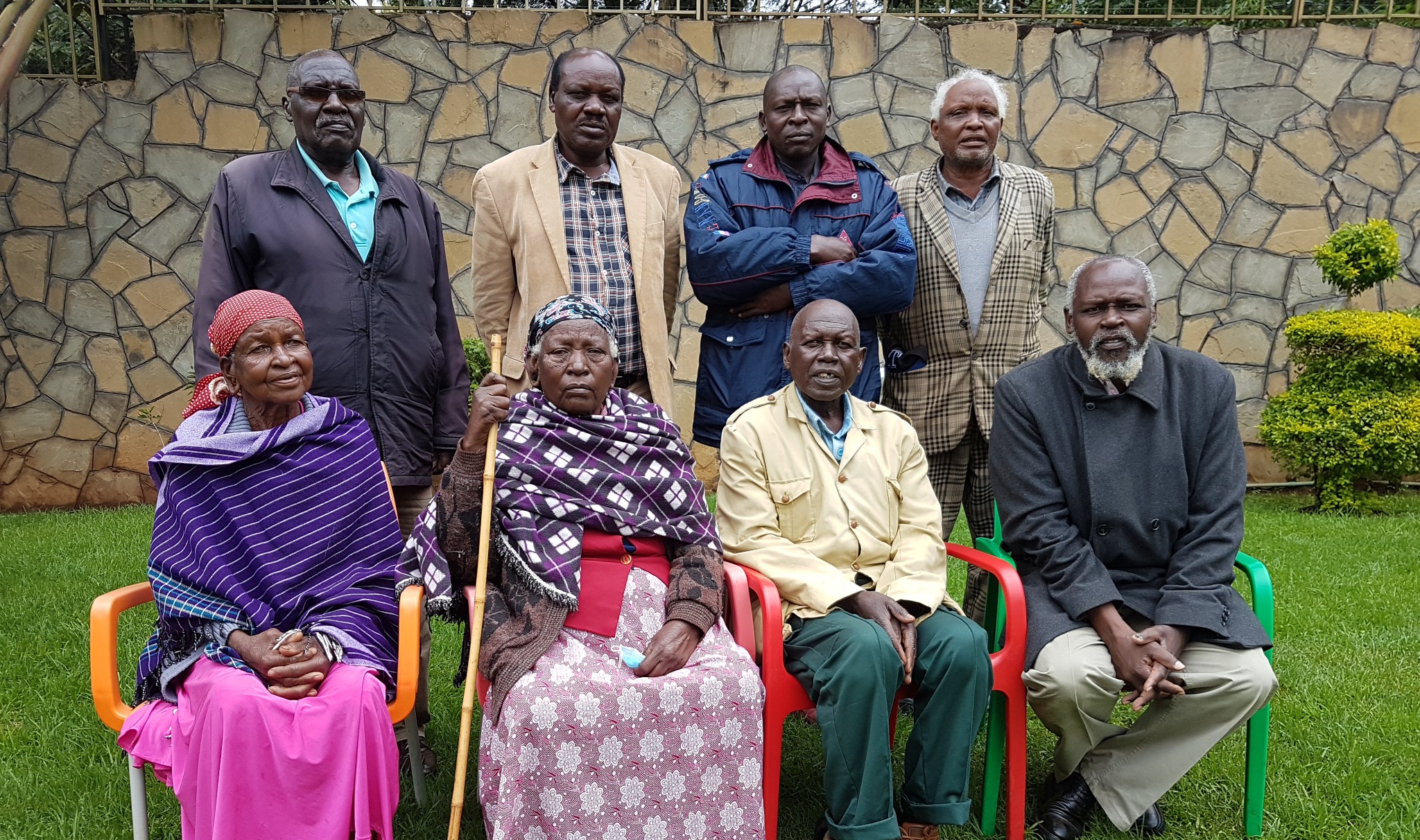 Displaced Kipsigis, clockwise from back left: Julius K. Kirui, Stephen Kimeli Laboso, Paulo Rutoh, Wilson Kiget, Peter K. Bett, Samuel K. Chepkwony, Elizabeth Rotich and Esther Soi. (Photo: Phil Miller / DCUK)
"After independence our property was not given back to us. So it wasn't real independence. We're still fighting for it," a campaigner tells Declassified
"I was young when the British came and started forcibly taking our ancestral land. They burned down our houses and chased us away," a survivor recalls
British tea companies and the UK government are still trying to prevent displaced Kenyans from getting justice
Wilson Kiget's mother Lydia was just 13 years old when she was first raped by a white farmer in Kenya. The assault came during British colonial rule in the 1930s, after the settler helped himself to the family's fertile land.
"My mother worked on his tea plantation for ten years," Wilson explains nervously. "She was raped continuously. Three of us were conceived by him. But when he wanted to marry a European woman, we were chased away and had to live in an abandoned hut.
"The horrible thing was whenever she went out with my siblings, who were lighter skinned than me, other children would run away because they were scared of their appearance. My mother died a miserable death."
Wilson's family languished in poverty for decades, while the tea planted on their land made a fortune for its British growers, Brooke Bond. The company would be acquired by UK food giant Unilever in 1984, who marketed the tea to millions of customers under the brands PG Tips and Lipton.
When Unilever sold its Kenyan tea investments to a private equity group in Luxembourg earlier this year, the deal was worth €4.5 billion. But now in an extraordinary twist, Wilson's community – the Kipsigis tribal group – believe they could be about to reclaim around 200,000 acres of lost land, and a century of profits.
The change in fortune is thanks to a recent ruling by Kenya's National Land Commission, which found the tea estates should have been returned to their original owners when the country became independent from Britain in 1963. Although the tea companies will challenge the decision at Nairobi High Court next year, for now there is hope among the defiant Kipsigis.
"Our land was stolen during colonialism," James Biy tells me, as we sit outside his father's cabin on the outskirts of Kericho, western Kenya. Behind us lie thousands of hectares of rolling green hills, verdant with tea leaves – on land which should belong to his family.
"After independence our property was not given back to us," James remarks. "So it wasn't real independence. We're still fighting for it."
His father, Tito Arap Mitei, now in his nineties, can still vividly recall the community's ordeal. "I was young when the British came and started forcibly taking our ancestral land. They burned down our houses and chased us away several times," Tito says hoarsely, holding a wooden walking stick.
"Three of my sisters died because they caught strange diseases when we moved into uninhabitable areas. Eventually we were so hungry we tried to come back here, but the tea companies said we were trespassers."
James finishes translating for his father before adding: "Between me and the British, who is supposed to be a trespasser?" He produces a document to prove he was taken to court – for collecting drinking water from his ancestral streams.
The family now lives on a scrap of land across the river from the tea plantations, with barely enough grass to graze a single cow. "We use firewood for heating, but we don't have enough land to collect the wood from," James' mother laments. "If I go on the tea estate, I'm not even allowed to take a twig."
The missing skull
The Kipsigis are the victims of one of the British empire's most brazen and enduring land grabs. It began in the late nineteenth century, when the imperial power built a railroad from the port of Mombasa towards Kisumu on the shores of Lake Victoria.
Near the end of the track it passed the lush slopes of Kericho, where Britain ran into resistance from the Kipsigis and the Nandis – a closely related community based on a mountain ridge to the north. Although they knew the ground far better than the British, they were completely outgunned.
"In June 1905, 2,000 Kipsigis were lined up and killed by the British. They were massacred," historian David Ngasura Tuei tells me. Crown forces fired more than 15,000 bullets on the punitive expedition to Sotik, in which they lost just one man. "The enemy was defeated with trifling loss to the column," an official account notes dryly.
A few months after the massacre at Sotik, the Nandi's leader Koitalel Samoei was killed by a British officer, Colonel Richard Meinertzhagen. His body was mutilated and belongings pillaged. A century later in 2006, the Colonel's conscience-stricken son would return these artefacts to Kenya.
But Samoei's skull is believed to still reside in England, although its exact location is unknown. The Pitt Rivers Museum in Oxford strongly denied a report that it housed the skull when I contacted them for comment, and it is not listed on their database of human remains.
While the Nandis' resistance had been literally decapitated, the Kipsigis held out, forcing the British to try charming their royal family, the Talai. In 1906, their leader Kipchomber Arap Koilegen was invited to Mombasa to attend King Edward VII's birthday celebrations. The British gave him an outfit to wear that emulated the style of the Sultan of Zanzibar, a powerful Arab ruler, denoting high status.
David Tuei, who is related to the Talai royal family and has written two books about their ordeal, says the British tried to get a treaty signed in Mombasa. "Kipchomber was told the King wanted peace and didn't want the resistance to continue," he outlines. "The settlers wanted the land and for the Kipsigis to be moved to what is now Tanzania."
Unsurprisingly, these demands were rejected and resistance continued for another decade. Kipchomber and his two brothers were eventually detained and exiled to a distant part of Kenya, where they would spend their final days.
After the first world war, Britain's land grab of the Kipsigis' territory accelerated with the introduction of the British East Africa Disabled Officers Colony (BEADOC). It was a scheme for injured white war veterans to acquire 25,000 acres of farm land in Kenya.
While some Kipsigis had fought for Britain in WWI and received medals, that sacrifice was not enough to stop their ancestral soil being designated crown land. British agricultural companies then received 99 year leases: firms like Brooke Bond (bought by Unilever), James Finlay (now owned by Swire) and Williamson Tea. None of the tea companies responded to my requests for comment.
Kipsigis were retained as cheap labour or relegated to native reserves, where the ground was far less fertile.
Targeting the Talai
The most draconian treatment was handed out to the Kipsigis' ruling family, the Talai. Fearing armed rebellion in 1934, King George V passed a removal ordnance banishing them to Gwassi on the shores of Lake Victoria, more than 80 miles from Kericho.
"When the Talai were rounded up, the British registered all 698 names," David explains. "Then they trekked all the way to Gwassi – it took two weeks. The European escorts were pulled by ox and cart that carried their tents and food. But the Talai were on foot.
"My father was about 12 years old. He was carrying baby goats and sheep that had been born on route. Once they arrived there, 14 women had miscarriages. It was a harsh area, there were lots of snakes, mosquitos and flies. Most of the people in Gwassi died. That's what the British wanted."
When I ask David for proof of this chilling allegation, he calmly recalls a visit to the UK National Archives in London, where he unearthed a memo written by a British colonial official. It revealed a plan, "brutal as it may seem [to] leave the old men to die out gradually in Gwassi."
The officer added: "I have little sympathy for the actual age group who made life so difficult for the government."
"I was so shocked when I found this document," David confessed. "I used to cry." He lays out a sheet of paper in front of me, showing how the British carefully tabulated his community's men, women and children before their deportation to Gwassi. The Talai's birth and death rates were then recorded annually, instead of once a decade as was the norm for censuses in the rest of Kenya.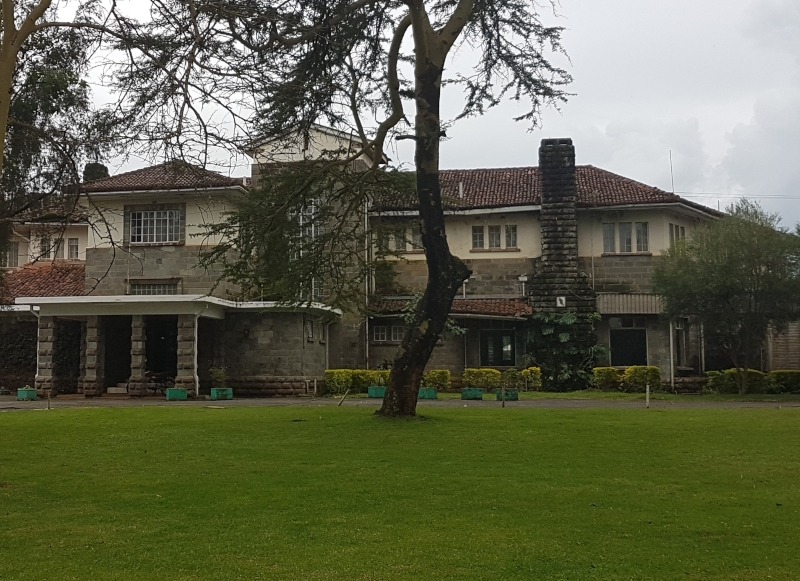 After wiping out the Talai elders, the next generation was to be tightly controlled. In 1945, a group of young Talai men were allowed to return to Kericho to marry Kipsigis women. "My father was among them," David notes with some pride. "He is the only survivor who is alive – that trekked to Gwassi and came back. I was born in that detention camp in 1952."
Those married in the camp were given a place in Kericho to await resettlement. "The life here in town was terrible. You weren't allowed to keep cows or have enough land to plough. We used to go to Kericho Tea Hotel, which was for whites only, to scavenge for food. We ate the leftovers from the night before. We'd take it to our mothers who would re-cook it for the whole family."
"Some young women started to sell their bodies to make money. That's why when HIV came, it really hit Kipsigis Talai," he adds.
David is not the only person I meet in Kericho who grew up in a detention camp. Wearing a mustard suit jacket and with a clipped moustache, Stephen Kimeli Laboso describes how his family were driven from their land and detained in the 1950s when he was around ten years old.
"It was surrounded by barbed wire," he recalls. His schooling finished at age eleven, after which he was used as cheap labour. "I had to work removing moles from tea plantations. They paid me only five cents a day," Stephen says. "The coin had a hole in it with a symbol of the Queen."
He then reveals an even darker episode. "There were old men who used to work as cooks at the camp. Sometimes they were sodomised by white men – Boers brought from South Africa," he alleges. When the camp closed down in 1960, "eight elderly men decided to take their own lives by hanging themselves, because they didn't have anywhere to go."