If a budget reveals what we value, this one should give us pause: extravagant spending for the war machine, scraps for workers.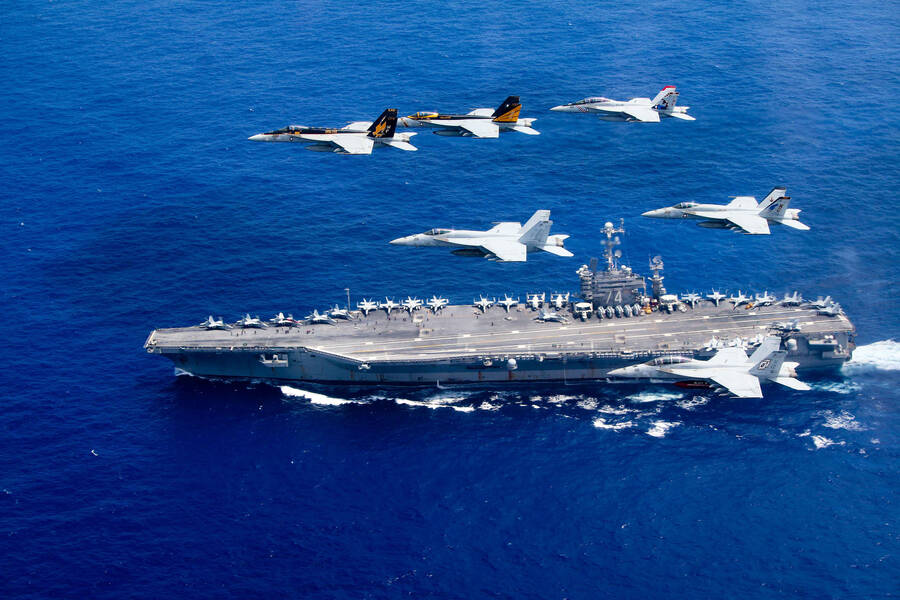 Every In These Times story is made possible thanks to the support of readers like you. Our December fundraising drive is the time of the year when most readers give. Can you chip in too?
Draft text of the congressional omnibus spending bill released this week reveals a proposed $25 million increase in funding to the National Labor Relations Board, which would bring the agency's 2023 federal fiscal year budget to $299 million. Its funding has otherwise been frozen at $274 million for the past nine years; when inflation is taken into account, this effectively amounts to a budget decrease of 25% since 2014, according to calculations cited in an NLRB news release.
The proposed hike is well below what leaders from unions like Communications Workers of America and Unite Here have been calling for, and falls short of the (already meager) $319 million President Joe Biden requested.
Any failure to robustly fund the NLRB hurts workers' attempts to win formal union recognition and protect their basic rights, a key reason why anti-union lawmakers have kept the NLRB's budget slim. Union representation petitions were up 53% in the 2022 fiscal year, and unfair labor practice charges spiked 19%, according to the NLRB. Meanwhile, the proposed budget increase — at just 9% — is not a meaningful raise above the current rate of inflation.
Let's dig into what the NLRB actually does. The NLRB is the agency that interprets and enforces labor law for most U.S. workers, unions and employers in the private sector (companies, corporations, nonprofits and other, non-government businesses). The NLRB performs essential functions under U.S. labor law in support of the union-organizing process. Workers petition the NLRB when they want to hold an election in their workplace for union representation by submitting signed membership cards. The NLRB then verifies the accuracy of those cards, and it determines the ​"appropriate bargaining unit" (the specific pool of workers who can participate in the representation election and, if a union is certified, would be represented by the union and covered by the union's contract with the employer) prior to each election. The agency then holds representation elections for workers to decide whether they want a union to represent them. If a majority of workers vote in favor of union representation, the NLRB certifies the union as the exclusive representative of that group of workers, and it legally compels the employer to begin negotiating with the union.
Studies have shown that delay at any stage of this process — but especially between filing the petition and the election, when unions and employers are openly campaigning for or against the union — benefits employers. Every day that passes during this period gives employers more time to exert pressure on workers to vote against the union, which we know not uncommonly includes illegal threats and intimidation (see: Starbucks and Amazon worker-organizers who have been fired). With a massive wave in new union organizing, an understaffed NLRB may not be able to hold representation elections in a timely manner.The proposed budget increase—at just 9%—is not a meaningful raise above the current rate of inflation.
The NLRB also adjudicates disputes between unions and employers and enforces labor law. When workers or unions believe their rights have been violated by an employer under labor law, they can file an unfair labor practice charge with the NLRB. NLRB field staff investigate these charges to determine if they have merit, and if they do, NLRB attorneys represent unions and workers in pursuing legal action against employers. Unfair labor practices are often very time-sensitive — for example, when an employer is illegally interfering in a union organizing campaign, or when they illegally fire an employee for organizing at work.
To understand just how starved the NLRB's budget actually is, it can be helpful to compare the agency with another federally funded entity: the U.S. military apparatus. Mainstream attitudes in Washington would likely posit that it is ridiculous to compare NLRB spending with ​"defense" spending, as the latter performs a vital, nonnegotiable service whose massive funding is a given and workers' rights, on the other hand, are considered dispensable. Regardless, the comparison provides useful insights into the moral priorities of our political system.